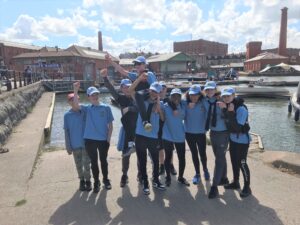 Coventry Sea Cadets' rowing teams enjoyed Gold success in the District competition with other Sea Cadet units from the West Midlands and Mercia.  They then represented the district at the Area (regional) Regatta in Bristol,  where the sliding seat team came away as silver medalists while the boat handling crew took bronze.  In the sliding seat competition, Leanna L-T and Reece C rowed in the singles competition while Kydn M and Taitum G competed in the mixed doubles. The boat handling competition set a series of afloat challenges for a crew of five to navigate within a tight time limit – a real test of skill and teamwork! Charlie H, Josh L, Finn C, Harrison B and Aodhan E formed the bronze medal-winning crew. This was a fantastic achievement given that all the crews were new to the sport at the start of 2022. They have worked together to improve their skills under the guidance of our British Rowing qualified instructors.
Cadets Alphie H and Harrison B spent a week on board offshore power vessel TS John Jerwood where they formed part of the crew, navigating the ship around the Cornish coast. They even managed to get in the sea for a swim and dolphins swam alongside the ship while they were underway!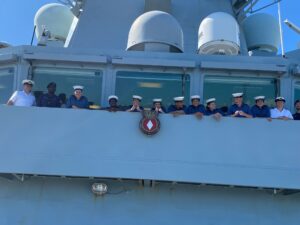 From small boats to large warships! Ten cadets visited Royal Navy destroyer HMS DIAMOND while she was alongside in Portsmouth. HMS DIAMOND has an affiliation to the City of Coventry and the Sea Cadets enjoy a special bond with the ship. During the visit, cadets were able to take part in firefighting exercises, visit the operations room and the bridge and talk to the crew about life on board. For those of our cadets considering a career in the Royal Navy, it was a fantastic experience, and we look forward to seeing the ship and crew again once they return from deployment.
If you are aged 10-17 and you'd like to join us on a #NeverOrdinary adventure enjoying activities like sailing, rowing, powerboating, adventure training, making new friends and being part of a team then email us at unit@coventryseacadets.org.uk
Find out more at the Sea Cadet Corps.
Published 10/10/2022