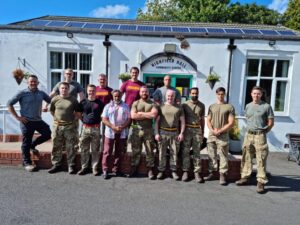 A community centre in Birmingham is growing its links with their local Army Reserve unit after working with them to improve the centre's green outdoor spaces for its users.
Reservists from A Company 5th Royal Regiment of Fusiliers (5RRF) in Sheldon worked at Highfield Hall Community Centre (HHCC) to remove waste wood from tree felling, and remove overgrown intrusive vegetation impacting on the garden space.  They also helped to plant potted conifers raised by local residents which will improve the garden's biodiversity.
The outdoor graft formed part of A Company's team-building day and was an ideal chance for Reservists to get their hands on a practical project which will provide a real benefit to their community.
2Lt Dan Colley, Platoon Commander within A Company 5RRF, said: "The centre provides a plethora of uses for the local people, ranging from venues for family events through to a special haven for quiet contemplation. It was therefore key for A Company to be able to step in and assist the centre in maintaining their grounds and facilities.
"The leaders at the centre were happy and content with the work of the team and invited the troops back at their next availability, and this kind offer will be gratefully taken up at the next team-building event.  It was a particular pleasure to give back to and engage with the community local to the Reserve unit and embrace the spirit of the Army Reserves model by enhancing the local connections for every member of the Company."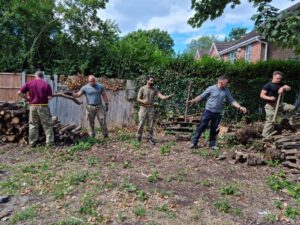 In line with the team-building ethos the groups of Reservists competed to see which teams could finish their tasks the quickest, before completing a massive team effort to shift approximately two tonnes of waste wood into the centre's bonfire area.
Robina Iqbal, Director at HHCC, was immensely grateful for their support adding: "The Fusiliers helped our centre and we got to understand the different roles the Army personnel have. It was building relationships with people we would never usually meet.  I hope they enjoyed meeting and understanding the work of our community centre, and its frontline approach to helping people in need."
The centre was acquired by Highfield Hall Community Club; a group of local residents and users who grouped together to bid for the centre as part of an asset transfer deal, when the original council-run site was faced with closure due to funding cuts.
Six years after their successful bid, and now part of a registered charity, HHCC is a thriving safe environment for community members to meet, address local issues and promote harmony.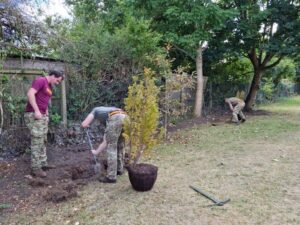 They have transformed the building, the grounds and the provision of services they offer to the local and wider community. Their outdoor space includes a garden with huts, a small pond, chickens and an avery, and welcomes users to visit and enjoy the tranquil environment – which is especially beneficial for users suffering with depression or long term illnesses.
Hundreds of people attend community events at the centre, and they are now the local hub for social gatherings, recreational and educational activities. Their centre also provides a food bank and continues to provide support to people struggling with the fuel and food crisis.
Their work with A Company 5RRF builds on the centre's recent signing of the Armed Forces Covenant; a voluntary pledge to ensure that members of the forces community are treated fairly.  HHCC are hoping to support and welcome veterans and military personnel to their centre to take part in projects which will benefit everyone involved.  They are also hoping through their new partnership that it will raise visibility of the centre to the wider military community, where users can access support and take part in activities.
Find out more about the role of the Reserve Forces.
A Company are based in Sheldon in Birmingham, and are the Midlands detachment of 5RRF, a Reserve Infantry Battalion.  The battalion also have other detachments based in London, Bury and the North East.  Learn more about the Royal Regiment of Fusiliers.
Published 10/10/2022