On the 7th March Summit Learning Trust hosted a collective Armed Forces Covenant signing event at Solihull Sixth Form College. A total of 10 Armed Forces Covenants were signed by Summit Learning Trust and all eight of their member academies, and South Birmingham SCITT (School-Centred Initial Teacher Training). 
The event was organised by Summit Learning Trust in collaboration with our Association. 
The Summit Learning Trust's Chief Executive Officer, Vince Green, was influential in starting the process and commented: "This is a significant day for Summit Learning Trust. Our partnership with, and respect for, the spirit and intent of the Armed Forces Covenant is hugely important to our family. Summit Learning Trust is proud to be part of such a vital national initiative. We will continue to advocate for those who serve or who have served in the Armed Forces, and their families, ensuring they are treated with fairness and respect in the communities, economy and society they serve with their lives."

Opening the event, Deputy Lieutenant Les Ratcliffe MBE said; "I am really pleased to be representing the Lord-Lieutenant of the West Midlands at today's ceremony, for the signing of the Armed Forces Covenant by The Summit Learning Trust that supports education for children from service families and serving or veterans of the Armed Forces."
Colonel (Ret'd) Richard Maybery QGM, Chief Executive of West Midland RFCA, also spoke about the importance of the Armed Forces Covenant and thanked the Trust for their support. 
The Worshipful, the Lord Mayor of Solihull, Councillor Ken Meeson was also in attendance to witness the covenant signing with the Mayors' Sea Scout Jessica Whitehill, who is currently studying at Solihull Sixth Form College. 
Graham Whitehouse, Regional Employer Engagement Director at West Midland RFCA added: "We are very excited about this event and delighted that all the member academies of the Summit Learning Trust have pledged their support to the Armed Forces community. The Royal Navy are already doing fantastic work with a number of the schools, and we look forward to working alongside the Trust and recognising their support in the future."
The Armed Forces Covenant is a promise by the nation ensuring that those who serve or who have served in the Armed Forces, and their families, are treated fairly.  The Summit Learning Trust and its member Academies have all committed pledges to demonstrate their support to the Armed Forces community, and to the principles of covenant.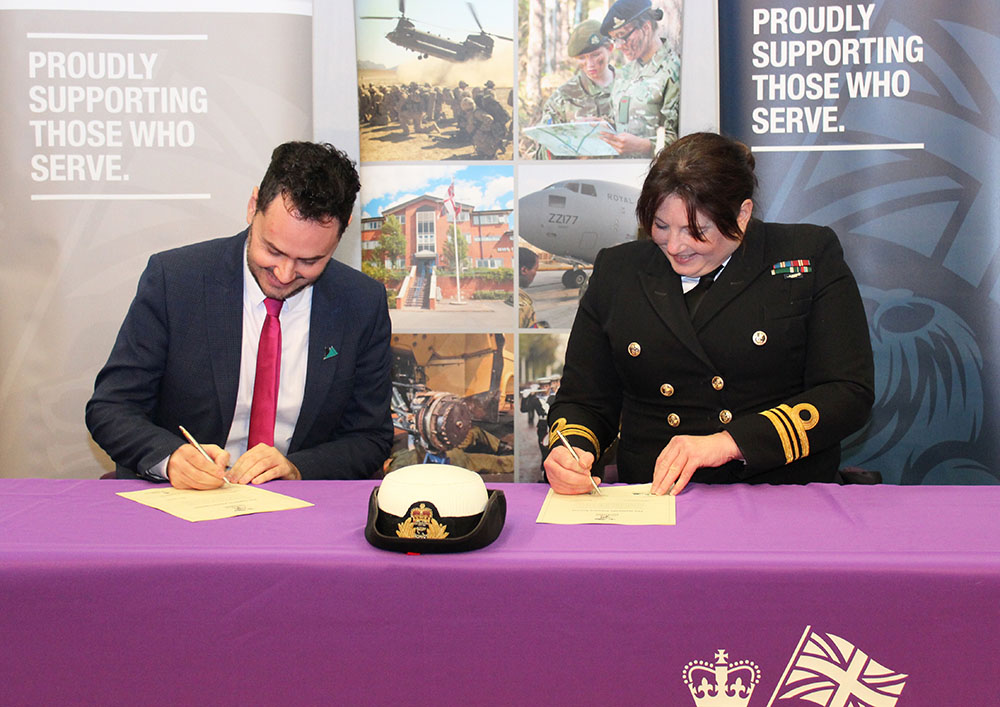 Summit Learning Trust are a multi-academy trust of eight academies based across Birmingham and Solihull providing children and young people with the highest levels of expectation, educational provision and care. Their vision is, "scaling new heights, for our children, young people and communities."  They are committed to ensuring that all children and young people, regardless of their background, fulfil their educational potential and maximise their life chances. The Trust delivers exceptional education to children and young people in the West Midlands enabling them all to have successful, happy lives and make a positive impact on their communities.
The member Academies of the Trust are:
Cockshut Hill School
Erdington Hall Primary School
Lyndon school
Ninestiles, an Academy
Oaklands Primary School
Pegasus Primary School
Solihull Sixth Form College
Yarnfield Primary School
South Birmingham SCITT
Find out more about the Armed Forces Covenant and how your organisation can support members of the wider forces community in your workforce or local area.
Published 15/03/23