Discussing how veterans, Reservists and those in the military community can bring tangible skills to the civilian workforce was a key theme for an online event hosted in partnership with the Greater Birmingham Chambers of Commerce.
Moving the annual event to the virtual sphere to allow for Covid-19 safety, employers from around the Greater Birmingham region were invited to listen to inspirational key speakers and find out how their organisations could benefit from working with Defence.
Welcoming John Loveday with his presentation 'From Bomb Blast to Boardroom', he chartered his journey from the Armed Forces to becoming a successful CEO, founder and shareholder in a number of companies including Toppa, Study Academy, Glider Yachts and Stoic Events. Sharing how his skills from the forces directly benefitted his new career path, John is also now about to embark on an additional part-time military career by becoming a Reservist himself; something which he is keen to encourage others to consider.
Outlining both the visible and unseen roles that the military is involved with in the West Midlands region – and beyond – Lieutenant Colonel Toby Gaddum, SO1 Engagement at 11th Signal and West Midlands Brigade, explained what the Army can offer to you as an employer. As the Director of a textiles company in his civilian capacity, he is well placed to understand the needs of the military community and how businesses can benefit from their talent pool and transferable training.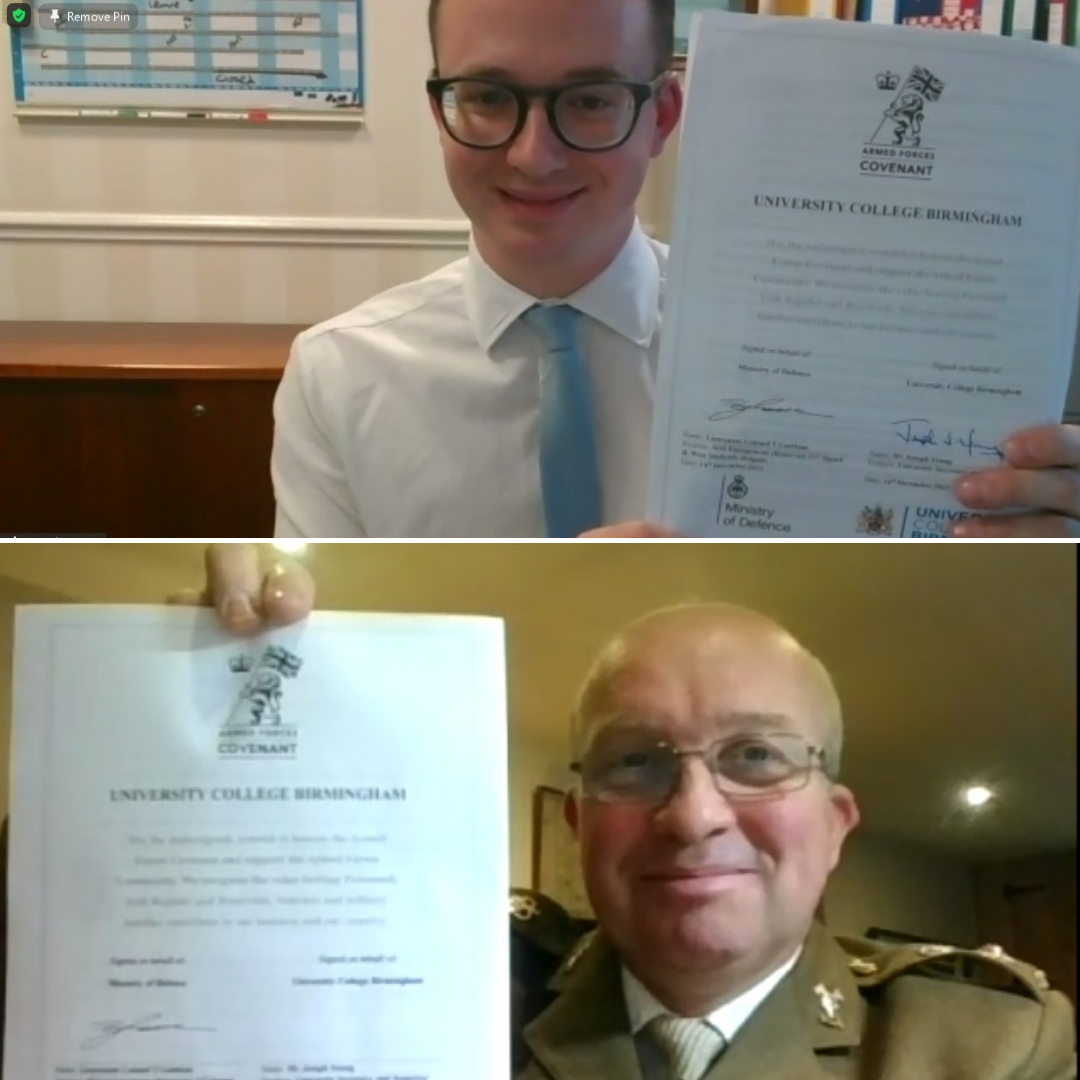 Originally due to be hosted as a face-to-face event at University College Birmingham's (UCB) campus in the centre of Birmingham, the event also aimed to hold a physical public signing of the Armed Forces Covenant by UCB.  The University specialises in offering vocational courses in both the higher education and further education sectors, and is keen to help those within its organisation and student networks who are a part of the wider forces community.
With the support of the University the covenant signing was translated into an a virtual signing, with Joseph Young, University Secretary and Registrar, signing on behalf of UCB, and Lieutenant Colonel Gaddum countersigning on behalf of the military.
Joseph shared their organisation's positivity towards the forces community by saying: "UCB is really proud of the former service personnel and Reservists we have among both our staff and student communities, and we're delighted to demonstrate our commitment to support them and other members of the Armed Forces by entering into the covenant today."
Regional Employer Engagement Director for the West Midlands and co-organiser of the event, Cat Suckling, added, 'It is an privilege to have worked with University College Birmingham so far on their Defence engagement journey; for an organisation that already employs Reservists and Veterans to publically sign the Armed Forces Covenant demonstrates genuine commitment to the Armed Forces community.
"I look forward to supporting them as they develop their relationship with Defence and continue to show their advocacy for the Armed Forces community internally and externally.'
The Armed Forces Covenant is a voluntary pledge from organisations which outlines their aims and intentions to ensure that members of the forces community – including current serving personnel and Reservists, veterans, military spouses and their families, and Cadet Force Adult Volunteers – are treated fairly.
Read more about how your organisation can get started on its Armed Forces Covenant journey, or even be recognised by the Ministry of Defence for supporting the forces community on the Defence Employer Recognition Scheme.
Find out more about the University College Birmingham.
Published 18/01/21