West Midlands Combined Authority (WMCA) has earned a Defence Employer Recognition Scheme Silver Award for its commitment to recruiting and supporting ex-servicemen and women and Reservists.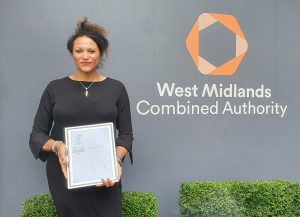 Following on from signing the Armed Forces Covenant and being awarded Bronze last year the prestigious Silver award now recognises the WMCA as an organisation that is actively supporting the Armed Forces community, has put positive human resources policies in place and shows continued encouragement for members of staff who join the Reserves.
Here in the West Midlands WMCA has schemes in place that help Armed Forces veterans start a new career, secure a job interview and support veterans who may be at risk of homelessness.
Andy Street Mayor of the West Midlands said, "I know everyone in the West Midlands is rightly proud of the contribution members of our Armed Forces make to our national security. It is because these brave men and women are prepared to sign up to risk their lives to keep us safe, that we signed up to be part of the Armed Forces Covenant. By signing up we made a commitment to do everything possible to ensure those who have served their country, and their families, face no disadvantage when it comes to employment. So I'm proud to be Mayor of an authority that has been recognised as being Armed Forces friendly."
"And with the Armed Forces playing their part in our fight against Coronavirus, it's particularly important that at this difficult time we support our veterans in every way we can. Both those we employ and those who need help securing work, skills training or accommodation."
Silver award holders must demonstrate support for the Armed Forces by employing at least one Reservist, veteran, military spouse or partner, or cadet force adult volunteer. In addition, an organisation should actively be communicating a positive image of defence to their employees, and grant Reservists the flexibility needed to carry out their annual training and mobilisation commitments.
Siamha Butt, Head of Engagement at West Midland Reserve Forces & Cadets Association said, "We are delighted that the West Midlands Combined Authority have been awarded the Defence Employer Recognition Scheme Silver Award.
"The West Midlands Combined Authority is a strong partner with defence, and has shown their support for those who serve and their families by implementing HR policies that allow paid leave for Reservists and flexible working for military spouses and partners. We look forward to strengthening our relationship by continuing to work in collaboration with the West Midlands Combined Authority."
There are about 76,000 veterans currently living in the West Midlands, with those of working age nearly twice as likely to be unemployed than their equivalents in the general UK population. WMCA runs a scheme that provides learners with both an introduction to construction skills to enable them to be site-ready for work and, crucially, guarantees them a job interview on completion of the course.
The learners are unemployed and are referred to the Gateway via their JobCentre, and receive  help with interview techniques, CV writing and employability skills.
After completing the course, all learners are supported on their journey to work through the National Careers Service for as long as they need, regardless of whether their first interview is a success. Those who are not offered a job immediately are added to the West Midlands 'site-ready talent pool' – which is shared with construction recruiters and provides a list of people who are ready for work immediately.
Armed forces veteran Martin Walker, from Redditch, is now working on the HS2 site at Cubbington, Warwickshire, for Five Rivers Environmental, thanks to training provided by RMF Construction Services through the Construction Gateway.
Martin said: "Construction is a great next step for anyone who has been in the military. The training funded by the WMCA was really good and my employer has been very impressed with how I have adjusted to my new job.
"I encountered an intruder on site and followed advice from HS2 to the letter on how to handle this. As a result, the site manager praised my actions as an example of best practice in the company."
In addition West Midlands Combined Authority advertises its vacancies on the career transition partnership website and provides a guaranteed interview scheme for veterans provided they meet essential job criteria. This enables veterans who have not been able to effectively demonstrate their skills at application stage secure an interview.
The Combined Authority has also been working with the Royal British Legion to help Armed Forces veterans who are either homeless or at risk of homelessness.
This summer WMCA awarded the Royal British Legion with a £20,000 grant which is being used to support veterans who may have built up arrears and faced other difficulties as a result of the recent pandemic. The individual grants will help to pay for vital items such as a deposit for accommodation or first month's rent, travel passes to find work, and basic furnishings.
Cllr Brigid Jones, WMCA portfolio lead for Inclusive Communities said, "I am delighted to hear that WMCA has achieved Silver level. This award highlights the commitment to inclusive growth by providing opportunities for veterans to gain skills and secure accommodation."
The Armed Forces Covenant is a promise by the nation ensuring that those who serve or who have served in the Armed Forces, and their families, are treated fairly. The covenant focuses on helping members of the Armed Forces community have the same access to government and commercial services and products as any other citizen. The support is provided in a number of areas including: education and family well-being, having a home, starting a new career, access to healthcare and financial assistance.