On the 30 year anniversary of the Royal Navy allowing women to go to sea on deployments, over 40 women currently serving on the UK support ship RFA Argus came together to mark the date.
RFA Argus is a multi-role support ship which is both the home and work-place for a variety of sailors and military personnel, and women fulfil a diverse range of roles as they live and work on board a ship at sea.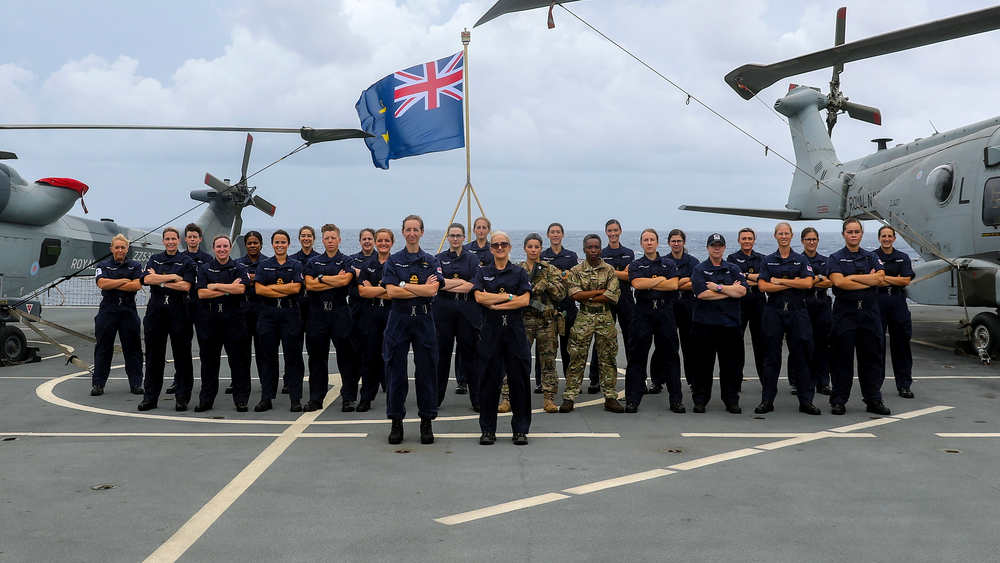 Angela Green is a Royal Fleet Auxiliary Steward on Argus, but she has also served in the Royal Navy and has the unique perspective of being in the third ever intake of sea-going women to go through training at HMS Raleigh in 1991.  This is shortly after the 1989 West Report recommended that women should go to sea from 1990, and that the Women's Royal Navy Service (WRNS) should merge with the Royal Navy.
Angela remembers how women worked to integrate into training. She said: "[In training] we used to pass our boots across for the lads to polish for us, we'd swap and iron their whites for them."
Shortly after training when at sea on her first ship HMS Alacrity, she recalled a beer lift with heavy barrels of beer. She said: "the lads were smirking, saying to the girls 'Look, it takes two of you to lift one of these, you can only do half the work we can'. I was only 18 but I picked up a barrel by myself and took it all the way down the gangway, and then came back for another, and another".
Angela left the Royal Navy to have children, and twenty years later saw an advert for the Royal Fleet Auxiliary, who were looking for ex-Navy recruits. She said: "I needed to lose six stone, so I did. I passed all my tests and medicals, and in 2016 I went back to sea as an RFA Steward. Best thing I ever did".
Reflecting on the changes between a life at sea then and now Angela said: "You had to have a thick skin back then. You had be one of the lads, most of your mates were lads. Now, you're just seen as you, and it's so normal to see women wandering around the ship. There still aren't that many of us but people don't blink twice".
The wider inclusion of women in the Royal Navy may have been helped by the 1989 West Report, however it did not mark the beginning of women serving at sea. In particular female nurses have served at sea for much longer.
Lieutenant Emily Harding is a serving Nursing Officer. She said: "In the Queen Alexandra's Royal Navy Nursing Service (QARNNS), female nurses have served at sea and in Hospital Ships since World War One, and they number amongst those who faced enemy action and lost their lives over the years. Since 2000 the QARNNS were formally incorporated into the Royal Navy and we are now held at readiness to deploy on global operations at sea or on land."
RFA Argus is a versatile ship but the main function is as a Primary Casualty Receiving Ship owing to the state of the art Maritime Role 3 hospital facility on board. As the custodian for the hospital, Emily said: "There are only a few permanent sea drafts for nurses; as the Hospital Officer on RFA Argus, and as a Practice Nurse on board the Queen Elizabeth Class Carriers. As a woman and a nurse in the Royal Navy, I am proud to have the opportunity to fulfil one of those roles today and to serve at sea, ensuring the Maritime Role 3 hospital on RFA Argus is ready to be activated when required."
RFA Argus is currently deployed to the Caribbean to offer support to the region during hurricane season and assist with maritime security patrols in partnership with HMS Medway in a UK Task Group. Commander Kate Muir is the Task Group Commander and as such is the senior naval officer currently deployed at sea in the region.
She Said: "This is a lively and motivated group of women who all have different roles and their own way of doing business, but with a common goal – success on operations. There is a role model in this group for everyone"
Noting the opportunity to mark the 30 year anniversary of women on board Argus with a group photo, she said: "I hope the photo inspires others to join us in the RN or RFA".
To find out more about the opportunities and roles available with the Royal Navy, visit their website here.
You can find out more about opportunities with the Royal Naval Reserve on our web page here.