Seven soldiers from a Worcester-based Army Reserve unit fired a Gun Salute to welcome King Charles III to Cardiff on Friday (16 September).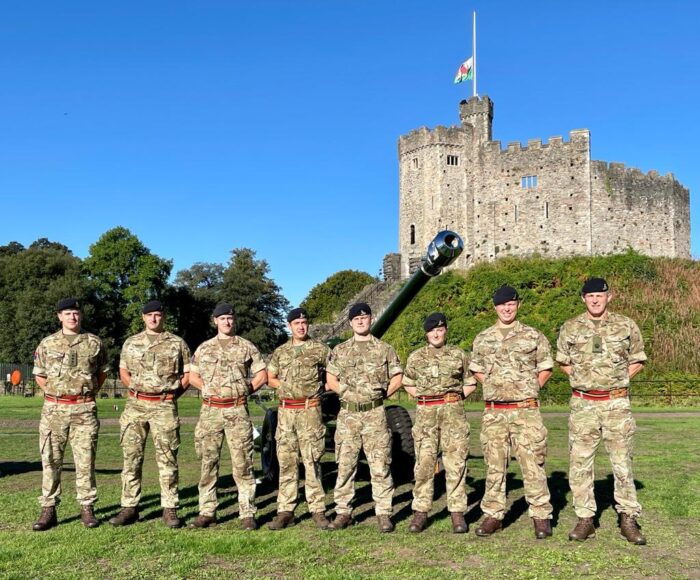 The Reservists from 214 (Worcestershire) Battery fired a Royal Gun Salute of 21 rounds from Cardiff Castle to mark King Charles III's arrival at Llandaff Cathedral.
King Charles III visited Wales for the first time as the new reigning monarch. The King and Queen Consort were greeted by thousands of people who flocked to catch a glimpse of the new King.
Following a service at the cathedral, the new Monarch moved to Cardiff Bay to receive condolences from the Welsh Parliament, the Senedd. 
The King's final stop was at Cardiff Castle where crowds had been queuing from 6am on Friday.
The command team of Worcestershire gunners was made up of:
Captain Dominic Rees, from Coventry
Warrant Officer Class Two Jon Hewitt, from Hereford, a Ministry of Defence (MoD) civil servant after retiring from the Army following a full 24 years' service
Sergeant Matt Blackwell, a self-employed carpenter
Bombardier Head, manager at Redpoint climbing centre Worcester

 

Lance-Bombardier Samantha Officer, from Cheltenham who works at MoD Abbey Wood, Bristol
Bombardier Matt Turner, from Dudley who works in 214 (Worcester) Battery several days a week, and 

 

Gunner Harry Thomas who works for Karcher pressure washers.
Sergeant Blackwell said, "I feel incredibly proud to have acted as Detachment Commander with members of 214 (Worcestershire) Battery as one of the three guns celebrating His Majesty The King's first visit to Wales. It was an incredibly proud moment for all of us and a moment in time we will never forget."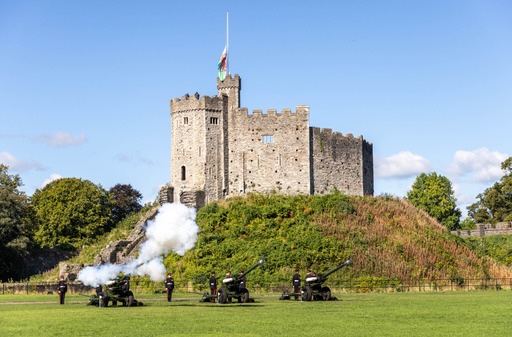 The Worcester soldiers' support for King Charles III's visit to Cardiff follows 15 members of the unit receiving the Queen's Platinum Jubilee Medal on 30 August. This commemorative medal marks the 70th anniversary of Queen Elizabeth II's accession in 1952. The medals were presented by Councillor Chris Mitchell of Worcester City Council. One member of the unit received the Volunteer Reserve Service Medal at the same ceremony.
214 (Worcestershire) Battery is part of 104 Royal Regiment Artillery, an Army Reserve unit located in South Wales, south-west England, and Worcestershire. It is equipped with the 105mm 'Light Gun', which has a range of over 17km. 
The unit's primary role is to provide close support artillery fire, including high explosive, smoke and illumination effects. The unit is ready to conduct a range of missions, including responding to emergencies in the UK, firing Royal Gun Salutes, and deploying on military operations overseas. 
214 (Worcestershire) Battery is based in the centre of Worcester and train each Tuesday from 7pm to 9pm.  The Battery soldiers are made up of a broad range of civilian occupations, including bankers, carpenters, vehicle mechanics, teachers, drone operators and bus drivers. The unit is currently recruiting. Search 'Royal Regiment Artillery' on the British Army website to find out more or call 01905 721995 for more information about the paid opportunities on offer.
Published 25/09/2022