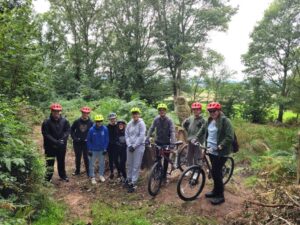 Cadets and staff from Shropshire Army Cadet Force (ACF) are busy fundraising for an action-packed trip to Cyprus for a week of adventure training.
24 cadets are hoping to experience the once in a lifetime opportunity during the October half-term – which will involve mountain biking on Troodos Mountain, scuba diving, paddle boarding and kayaking in the Mediterranean Sea.
As well as taking part in sports activities the cadets will visit several areas of cultural and historical importance to enhance their learning experiences.
To fully embrace the opportunities on offer, the ACF have been aiming to raise £33,000 which will cover their travel costs, accommodation, sustenance, the cost of activities and associated expenses.
Despite their fundraising and grant applications they have a current shortfall of £1,100 which they are keen to raise in order to keep the costs minimal to their cadets – including those cadets who may experience financial hardship and be unable to take part in the trip otherwise.
Major Antony Chwalinski, Company Commander at Shropshire ACF said: "This is a fantastic opportunity for a group of cadets to participate in activities such as sub-aqua diving which is rarely done in the cadets – and as far as I'm aware the first for Shropshire ACF.  It will also be one of the only chances for some of the young people in Shropshire ACF to travel outside of the UK.
"It is well documented that the pandemic has had a negative impact on the mental health and social skills of young people.  I am hopeful that the planned activities will help these 24 cadets to develop life skills such as communication and working with others, whilst at the same time building resilience through challenging, but enjoyable adventurous activities."
If you are interested in finding out more about their trip or donating towards their fundraising, visit their crowdfunding page here:
https://www.justgiving.com/crowdfunding/shropshireacf?utm_term=RrKGKYME5
Shropshire ACF has over 500 cadets located in 22 detachments across their county.  Supported by 110 adult volunteers, the Army Cadet Force aims to develop the skills and confidence of young people, through fun, friendship, action and adventure. Find out more about Shropshire Army Cadet Force.
Published 03/08/2022