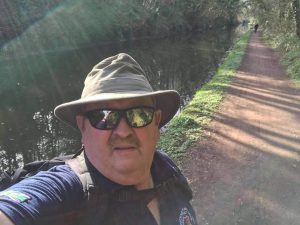 A Company Commander with the Army Cadet Force in Birmingham has walked 500 miles with the aim to raise over £1,000 for two worthy causes.
Major Paul Curran, Officer Commanding of Z Minden Company at Warwickshire & West Midlands (South Sector) Army Cadet Force (ACF) created the challenge as a way of keeping active during the latest lockdown.  Taking inspiration from The Proclaimers song he set his sights on walking 500 miles as a target – and if that wasn't challenging enough, Paul decided to aim to complete it in just 60 days.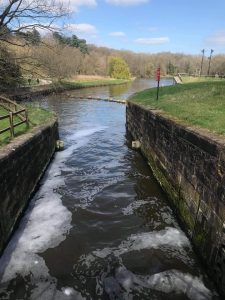 True to the song lyrics and as a way of keeping the county active, fellow company staff, volunteers and cadets were collectively challenged to  'walk 500 more' and add another 500 miles by matching the distance as a team.  Each individual tracked their own walking distance to add to the total, remaining Covid-19 compliant by exercising within their household bubbles.
Major Curran commented, "What motivates me to do this is the same thing that motivates me to be an adult instructor in the Army Cadets.  I get to do something positive for other people and at the same time I become a little better myself, every time I make the positive choice to step out and do the right thing.  I am a proud member of the Fusilier family and I love the community I belong to.  Get walking, raise some money for a good cause and join the Fusilier family – what could be better!"
The funds raised are being split between Scotty's Little Soldiers, a charity which provides support to bereaved young people and children who have suffered the loss of a parent serving with the Armed Forces, and Warwickshire ACF's South Africa Community Engagement expedition in 2023.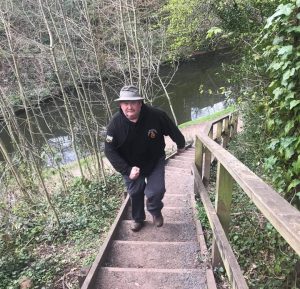 In 2019 the county ran their first trip to South Africa and they wish to continue their successful legacy by taking a new group of cadets to the continent, to help plant new trees, engage with local schools and learn about conservation.
To complete his walking challenge Paul has completed his miles around his local roads, canals, parks, and beauty spots such as Sarehole Mill, often with the company of his wife and his dog, Biscuit.  Warwickshire ACF's Commandant, Colonel Holder, and fellow instructors also joined him for different legs of his adventure for socially distant walking where guidelines permitted.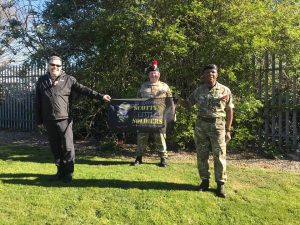 With just under seven miles to go on his last walk, Major Curran arranged to finish his walk outside the Army Reserve Centre in Sheldon, home to Reservists from A Company 5RRF and the county's Barrows Lane Platoon ACF detachment.  Receiving a surprise welcoming committee to cheer on his last few steps was a fitting way to end his 60 days.
Major Curran described his welcoming committee as "very emotional" adding, "This has been a massive journey in more ways than one.  From the reflections whilst walking alone, to the emotion that helping the charities brings.
"We are nearing the £1,000 mark for Scotty's Little Soldiers charity and well over £250 towards the South Africa 2023 cause.  I thank you all for your support and encouragement!"
A huge congratulations to Major Curran and all of the other staff, volunteers and cadets who took part in this terrific challenge.
You can find out more about the causes or how to donate by following these links: Scotty's Little Soldiers or Warwickshire ACF South Africa 2023 Community Engagement Tour
Find out more about the cadets or Warwickshire ACF.
Published 04/05/2021