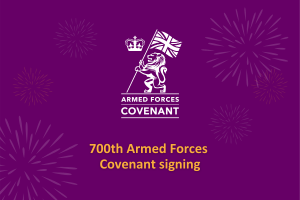 Valiant Integrated Services Ltd as the 700th company, within the West Midland Reserve Forces & Cadets Association (RFCA) region, to sign the Armed Forces Covenant and pledge their support to the Armed Forces community.
The Armed Forces Covenant was introduced by the Ministry of Defence in 2014 and is used across the country for businesses to pledge their support to the Armed Forces family. The organisations who hold a Covenant recognise the value serving personnel, both Regular and Reserve, veterans and military families contribute to their business and our country.
Valiant is a trusted partner to government military clients and the broader defence sector, providing vital resources, high-value solutions, and critical support services for essential missions around the world. Valiant's 5,000 associates enable government departments and agencies, global peacekeepers, relief workers, and emergency response teams to complete their missions efficiently and effectively every day. The company delivers mission-critical and essential support in some of the most complex environments, on land, at sea, and in the air.

"Valiant is proud to show our support to the Armed Forces community through the signing of the Armed Forces Covenant," Emma Sharma, Valiant's Chief Administrative Officer and General Counsel said. "We demonstrate our commitment to actively serving personnel, veterans, and their families by funding and supporting initiatives that provide opportunities to those who serve. Veterans and reservists make up 28% of our worldwide workforce, and they and their families are an important and integral part of team Valiant."
Colonel (Ret'd) Richard Maybery, Chief Executive of West Midland RFCA added, "It's great to see our Covenant network continuing to expand rapidly across the region and I am delighted that Valiant Integrated Services have just become our 700th Armed Forces Covenant signatory in the West Midlands. Since establishing themselves in the UK they have very quickly jumped aboard this and as well as their commercial links with Defence, they are already actively supporting the wider Armed Forces Community.  We very much look forward to developing our partnership with them into the future."
Companies are continuing to deliver on their pledges of support towards the Armed Forces community. This can be seen in the number of organisations recognised by Defence through the Employer Recognition Scheme. Within our region, there are currently 73 employers who hold a Silver Award and 28 employers who hold the Gold Award.
The type of pledges made vary from endeavouring to work with defence-funded recruitment agencies to promote vacancies to service leavers, supporting existing staff to become Reservists or Cadet Force Adult Volunteers and promoting the fact the organisation is Forces Friendly. Whether you are a small or large organisation there is a way you can support the Armed Forces family and the Armed Forces can support you.
On behalf of the West Midland RFCA, a sincere thank you to all of the organisations who have now signed the Armed Forces Covenant within our region. If you are yet to sign and would like to find out more please contact the West Midland RFCA Employer Engagement Team on wm-eeao@rfca.mod.uk or 0121 274 2225.
Find out more about the work we do with employers.
Published 04/05/2021