Hotel management group Almarose Hotels & Resorts has formally pledged its commitment to support those who have served or are currently serving within the Armed Forces.
Backed by the government, the Armed Forces Covenant relies on the people, communities, and businesses of the UK to actively support it in order to make a difference.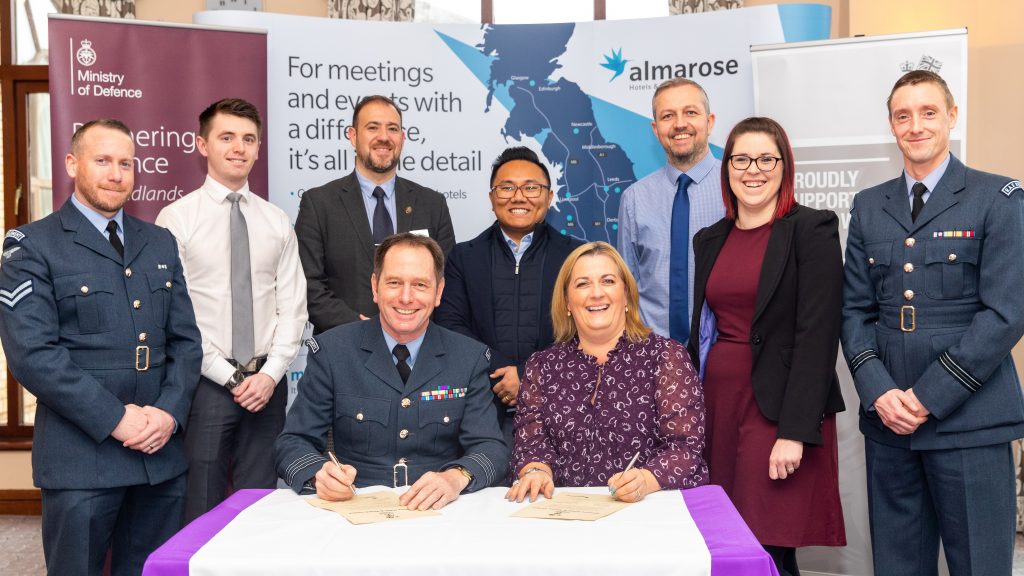 The official pledge recently signed, means Almarose promise to ensure that those who have served are treated fairly and that workplace challenges are recognised with care.  It solidifies their responsibility to work with the Armed Forces to help those who are leaving the service, those still serving and their families into various roles within their many hotel sites across the country.
Many of Almarose's hotels across the UK are located close to a number of military bases therefore this new pledge will mean a direct, positive impact on these communities.
Those that have been in the forces gain a variety of skills and experience whilst serving but due to being on the move every few years, they can often struggle with career progression.  Almarose recognise the value and adaptability of these skills alongside the strong work ethic that such communities can bring to the company.
On Wednesday 22nd January at Belton Woods Hotel, Bobby Davis, Almarose Chief People Officer signed the covenant along with other members of the senior management team.  The covenant was countersigned by Royal Auxiliary Air Force Inspector, Group Captain Gavin Hellard.  Also in attendance were employees from Almarose's 20 hotels who have served or are still serving in the forces.
Bobby Davis said: "This pledge will ensure that our current and former armed forces personnel are able to access full support from us as an organisation. As one of the first hotel groups to sign the Armed Forces Covenant, Almarose are proud to be leading the way within the UK hospitality industry as well as creating a culture where all employees are given the opportunity to thrive."
Davis joined the business in 2019 with an aim to drive forward a culture that shapes an environment where people can thrive. Signing the covenant is the start of many planned partnerships that engage local communities and bring positivity and empowerment to Almarose teams.
Almarose Hotel & Resorts, the hotel management arm of Aprirose, was formed following the acquisition of QHotels in 2017.  It is responsible for 20 hotels operating under the QHotels, Doubletree by Hilton and Delta by Marriott brands.  For more information on Almarose Hotels & Resorts, please visit https://almarosehotels.com/.
For more information on how your organisation could benefit by partnering with Defence, or to find out more about the Armed Forces Covenant, please visit our web page here.