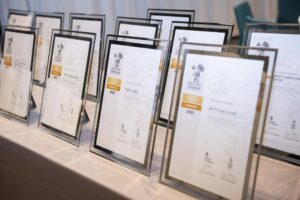 Five businesses from the West Midlands RFCA region have been presented with the prestigious Defence Employer Recognition Scheme (ERS) Gold Award at a special ceremony in Staffordshire.
The joint regional event held on 2nd November at The National Memorial Arboretum saw twenty-three employers from East and West Midland Reserve Forces & Cadets Associations' regions recognised for the outstanding support they give to the Armed Forces community.
The organisations receiving their award here joined the total of 156 ERS Gold awards being presented in 2022. The five winners for 2022 are:
Black Onyx Concepts Limited
HS Infra Ltd
Onions & Davies Solicitors
South Staffordshire College
Traffix Limited
Shropshire County Council have also had their Gold Awards from 2017 revalidated after their continued support to, and advocacy for, the Armed Forces.
The awards were presented jointly by Major General Mark Overton, the Assistant Chief of Defence Staff for Reserves & Cadets and Brigadier Jock Fraser, the Naval Regional Commander for Wales & Western England.
The event was also supported by the Corps of Drums of the Royal Logistics Corps, an ensemble of the Band of the Royal Air Force Regiment, and Warwickshire & West Midlands (South Sector) Army Cadet Force Corps of Drums.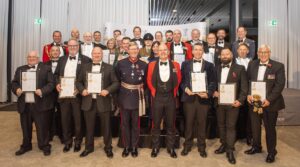 The Chief Executives from both RFCA's, Colonel (Ret'd) Richard Maybery and Brigadier (Ret'd) Stuart Williams, commented: "We were delighted to be present at the Gold Awards this evening and to see the recipient organisations recognised in this way by Defence. The bar for the Gold Award is a high one – but not unrealistically so, as witnessed by the broad range of organisations represented.  All of them have demonstrated their unswerving commitment in supporting the Armed Forces family – veterans, Reserves, cadets, adult volunteers and military spouses. That support and advocacy is much valued by the Armed Forces and it's people and it's great to see it rewarded. We look forward to continuing to work with all our winners and to continue, with them, in bringing other organisations along too."
To conclude the event the Director of the National Memorial Arboretum, Philippa Rawlinson, was invited to sign the Armed Forces Covenant alongside Major General Overton, signing on behalf of the Ministry of Defence. The National Memorial Arboretum is the Nation's year-round place to remember, and counts many veterans and Armed Forces Reserves within its team. The signing reaffirmed the National Memorial Arboretum's commitment to upholding the principles of the Armed Forces Covenant and supporting the Armed Forces community.
To win a Gold Award, organisations must provide ten extra paid days leave for Reservists and have supportive HR policies in place for veterans, Reserves, and Cadet Force Adult Volunteers, as well as spouses and partners of those serving in the Armed Forces.
Organisations must also advocate the benefits of supporting those within the Armed Forces community by encouraging others to sign the Armed Forces Covenant and engage in the Employer Recognition Scheme.
To find out more about the Employer Recognition Scheme and how your business can benefit from supporting the Armed Forces Community visit www.wmrfca.org/employers or www.eastmidlandsrfca.co.uk
To view the list of organisations who have signed the Armed Forces Covenant visit https://www.armedforcescovenant.gov.uk/get-involved/who-has-signed-the-covenant/