Over the October half term 24 cadets from Shropshire Army Cadet Force (ACF) travelled to Cyprus for a week of challenging outdoor adventure training.
Mountain biking, diving, paddle boarding, mini-golf and trips to cultural sites filled their action-packed week designed to build confidence and courage, and increase their knowledge, teamwork and leadership skills.
One of the highlights of the trip proved to be their first ever experience of scuba diving. It was an instant hit during their try-dive sessions as the cadets explored a fish reserve located on the Akrotiri Peninsular at RAF Akrotiri.
Their cadets and staff also embarked on two days of mountain biking in the Troodos Mountains. Learning to ride on different terrains, they had to adapt their riding techniques to negotiate the ground and learn to control their bikes safely.
Whilst weather conditions impacted a green turtle spotting session at the MTW Water Centre on Tunnel Beach, they did get to take part in paddle boarding, kayaking and a boat trip – followed up by a fun beach afternoon with a BBQ and volleyball.
Making the most of Cyprus' rich culture and history the cadets also visited a number of its impressive sites.  These included a visit to the Tombs of the Kings, a UNESCO World Heritage Site located in Paphos, a visit to the capital city Niscosia for a tour of the UN Buffer Zone and a visit to Kourion, an important Greek city-state.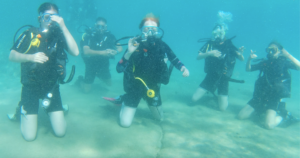 Mrs Daniels, a parent of one of the cadets who went on the trip, shared her grateful feedback: "I just wanted to say a huge thank you to all those involved in the Cyprus trip as I have a very grateful son who hasn't stopped talking about the most amazing trip… until I suggested a sleep might really be needed!
"Thank you for the experience you have given them all and the amazing opportunities. They were all very lucky to be given the chance to do so many adventurous and courageous activities."
It was a successful week of overseas adventure training with great benefits for the cadets.  With a large amount of the trip being raised through fundraising and grant applications, it also made the trip accessible for so many cadets to attend.
Our Association was delighted to fund part of their activities, alongside donations from a number of other organisations.  Find out more about how we support the Reserve Forces and Cadet Forces in our region.
Shropshire ACF has over 500 cadets located in 22 detachments across their county.  Supported by 110 adult volunteers, the Army Cadet Force aims to develop the skills and confidence of young people, through fun, friendship, action and adventure. Find out more about Shropshire ACF.
Published 08/12/2022