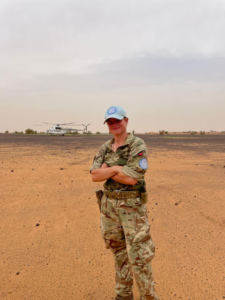 As an Army Reservists you join and train with a unit, but in some cases the Reservists have specialist transferrable skills which mean they maybe given the opportunity to go on tour with another unit. This was the case for Sergeant Shotton from 4 MERCIAN, you can read more below:
MINUSMA is the United Nations Multidimensional Integrated Stabilisation mission in Mali. Established in 2013, the mission was asked to support transitional authorities of Mali in the stabilisation of the country. Operation NEWCOMBE is the UK commitment to that mission and the units currently deployed are The 1st Battalion, The Royal Irish Regiment (1 R IRISH) and The Royal Scots Dragoon Guards (RSDG).
Sergeant Faye Shotton has been an Army Reservist for 15 years and is currently employed with 4 MERCIAN as the Medical Sergeant. During her time as a Reservist, the operationally experienced SNCO has deployed on operations in Iraq (Op TELIC), Afghanistan (Op HERRICK) and previously under the UN banner in Cyprus (Op TOSCA) as well as on Short Term Training Team deployments in Uganda. Sergeant Shotton is currently deployed on Op NEWCOMBE as part of The Long Range Reconnaissance Group where her vast medical experience, gained as an Army Medic and through her civilian employment as a Hazardous Area Response Team (HART) Paramedic with West Midland Ambulance Service, is providing the Battlegroup with a key capability.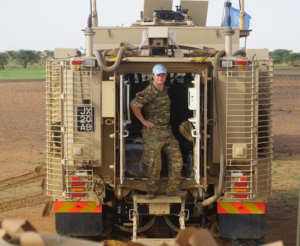 During her time in Mali, Sergeant Shotton has deployed on many patrols conducting reconnaissance and intelligence gathering as well as providing reassurance for the local population. In her role as part of the medical team, she provides primary healthcare to those deployed and her role also means she remains on standby to deliver lifesaving advanced trauma care to either UN or civilian personnel.
The consummate professional, Sergeant Shotton was awarded a Commander's Coin by Commander 16 Air Assault Brigade during his recent visit to the Battlegroup. We are proud to have Sergeant Shotton in the 4 MERCIAN family and don't mind too much that we have lent her to 1 R IRISH for a short time on operations, they are lucky to have her.
Find out more about joining the Reserve Forces.
Story copyright of 4MERCIAN, used with their permission.
Published 08/12/2022