A Shropshire construction company has become the latest organisation to signal its support for serving and former armed forces personnel after completing the build of the UK's first ever specialist orthopaedic centre for military veterans.
Pave Aways, which handed over the Headley Court Veterans' Orthopaedic Centre at the world-renowned The Robert Jones and Agnes Hunt Orthopaedic Hospital NHS Foundation Trust (RJAH) in Gobowen in November, has signed the Armed Forces Covenant.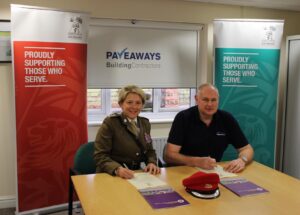 The covenant represents a pledge of support by the Knockin based building firm for people who are serving in, or who have served in, the armed forces. It also sets out how it will demonstrate its commitment, including promoting its armed-forces-friendly status and seeking to support the employment of veterans, young and old.
The covenant was signed by Pave Aways managing director Steven Owen, observed by some of the firm's employees who served in the armed forces.
Steven said: "Having a long-established working relationship with The RJAH, we had an understanding of the challenges, both mentally and physically, faced by those in the armed forces but building the Headley Court Veterans' Orthopaedic Centre gave us a far greater insight to those issues.
"We are proud to support our military personnel, both serving and veterans, and signing the covenant is a public declaration of that. We would encourage other businesses to do the same."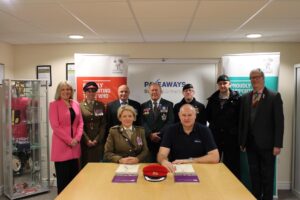 Representing the Armed Forces at the signing were Lt Col Samantha Brettell, Armed Forces lead at The Robert Jones and Agnes Hunt Hospital Rebecca Warren and
Philip Sinclair, Regional Employer Engagement Director for the Ministry of Defence.
Philip Sinclair said: "Raising awareness of the Armed Forces Covenant in business is a key Defence activity which seeks to develop advocates for Defence within civil society. Defence recognises the positive role that employers play in fostering more reservist friendly workplaces and in supporting the armed forces community.
"I was delighted to be present at this significant Armed Forces Covenant signing by a company that proactively demonstrates its support for that community, and I look forward to fostering the relationship further through Defence's Employer Recognition Scheme. Welcome to the Armed Forces Covenant family".
Stacey Keegan, Chief Executive of The Robert Jones and Agnes Hunt Orthopaedic Hospital, said: "We are grateful to Pave Aways, which has built us an exceptional building from which we can deliver our Veterans' Orthopaedic Service.
"It has been on board with this project from the very beginning and I am delighted that it has further signalled its commitment to the Armed Forces community by signing up to the Armed Forces covenant.
"As long-standing signatories of the covenant ourselves, and as an accredited Veteran Aware hospital, we take our responsibilities to the forces extremely seriously and it is good to see our partners aligning with those same values."
For more information about the organisation visit www.paveaways.co.uk
Read more about the Armed Forces Covenant.
Published 05/01/2023