An Armed Forces Liaison Manager is one of many Reservists across the UK who swapped their civilian role to work with the military during the Covid-19 pandemic.
Darren Knight works full-time for recruitment firm Pertemps at their Birmingham office in his usual business capacity, assisting people from the military community to help find jobs in civilian roles.  He has also been an Army Reservist with 102 Logistic Brigade for eleven years, after commissioning into the Reserve Forces following a 23-year long career in the Regular Army.  Promoted to the rank of Major in 2014, he is currently the Officer Commanding of 203 (Loughborough) Transport Squadron, 158 Regiment Royal Logistic Corps.
With the full backing of Pertemps, Darren was able to answer the Government's call for employers to help facilitate the mobilisation of up to 3000 Reservists to support the UK's COVID-19 response.
Having been mobilised only once before in his Reservist career for Operation Comet, the UK's military contribution to support the Commonwealth Games in Glasgow, he found working on the frontline during a national pandemic provided a whole new challenge.
Based at the Operations Centre at the Department for Health and Social Care in Westminster, Darren commented: "102 Logistic Brigade HQ has 15 Army Staff Officers working on supporting Regional Test centres nationally.  Each Regional Test Centre has affiliated Mobile Test Units which we are training and deploying where there is a need.  I am grateful for Pertemps for supporting me in this initiative which, in turn, is supporting the national effort."
Kent Thompson, Managing Director at Pertemps added: "Since joining us in 2015, Darren has always put the needs of others before himself so I am not surprised to see him on the frontline doing what he does best – supporting those who need help the most.  We send him our very best wishes at this time."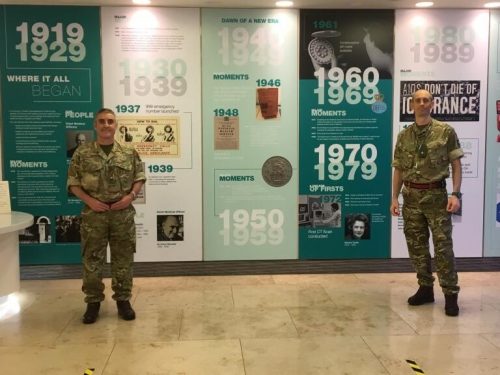 Pertemps have a strong record of supporting the Armed Forces and wider military community, with the company proudly receiving the top level Employer Recognition Scheme (ERS) Gold Award in 2016 in recognition of this.
With innovative schemes, the company demonstrate that they recognise the value that Reservists and veterans can bring to employers with a wide range of desirable qualities and skills.
Their dedicated Forces Liaison Team helps current and ex-service personnel to find their next careers in civilian roles.  To date Pertemps have placed over 500 per members of the Armed Forces community, and are actively working with hundreds more to gain relevant civilian qualifications.
The company has also found a way to help address the national shortage of drivers with the birth of the Pertemps Driving Academy.  The Academy provides bespoke employment solutions which hone the driving skills and qualifications obtained by many members of the Armed Forces.  Pertemps offer additional schemes in their driving division which can benefit Reservists in terms of qualifications or additional paid training days.
Find out more about Pertemps' Armed Forces support.