On Wednesday 28th October, retired U.S. 4* General, and honorary Professor of the University of Birmingham, General David Petraeus spoke to a large group of Officer Cadets on the topic of strategic leadership. The event was chaired by Professor David Dunn of the University of Birmingham and organised by Birmingham University Officer Training Corps.
General Petraeus served for over 37 years in the U.S. military, culminating his career with six consecutive commands, five of which were in combat, including command of coalition forces during the Surge in Iraq, command of U.S. Central Command, and command of coalition forces in Afghanistan. He has emerged as one of the preeminent military leaders of this era, whose influence shaped the direction of the Iraq and Afghanistan campaigns. Following his service in the military, he served as the Director of the CIA.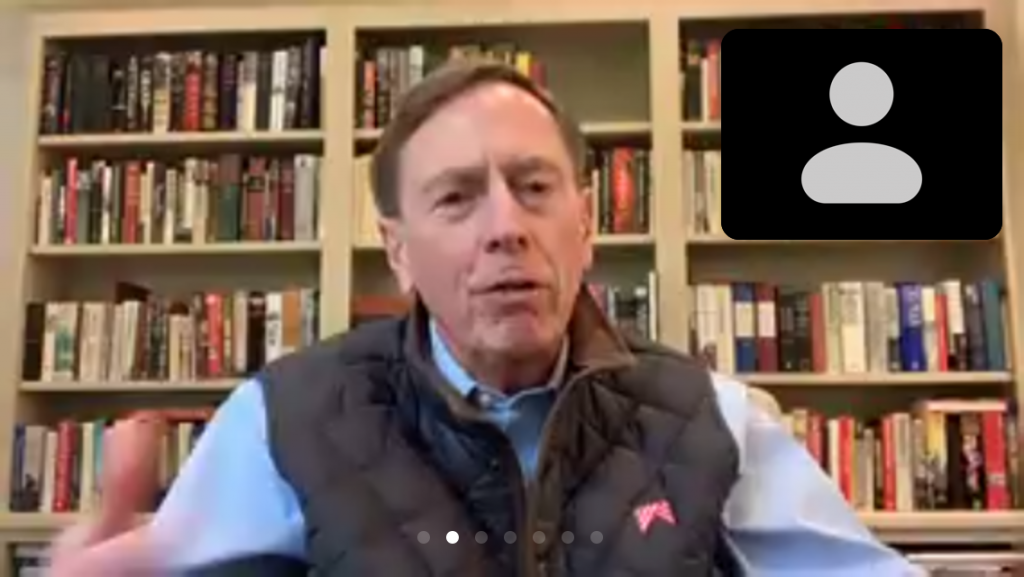 In a fascinating and inspirational 90-minute question and answer session, the General began by speaking on his model of four strategic tasks, which begins with getting 'the big ideas right.' As he has previously said, he considered the surge of ideas in Iraq to have been more important than the surge of force. The event was attended by over 350 Officer Cadets from across the UK[1] and members of the University Service Units.  We were also delighted to share the event with our partnered officer cadet academies in the US and Netherlands.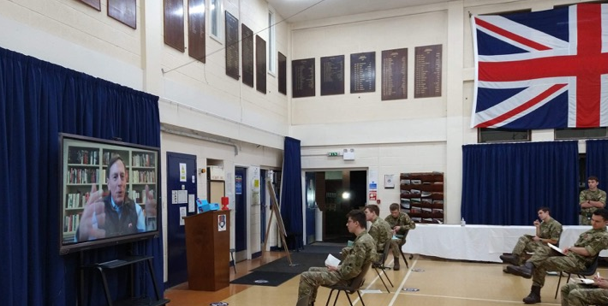 Further highlights of the far-reaching 'conversation' included his reference to the Roman philosopher Seneca that 'luck is what happens when preparation meets opportunity,' and the advice he was given earlier in his career, 'never to pass up an opportunity to keep your mouth shut!'
Coronavirus has, on the one-hand, constrained our ability to interact, but on the other has been a catalyst for opportunities such as this to study leadership.  When asked, he closed by saying what his advice to 'Officer Cadet Petraeus' would be: remember, 'that life is a competitive endeavour.'
[1] Birmingham UOTC is one of 17 UK OTCs. It has members from Higher Education establishments from across the West Midlands.