South Staffordshire College recognises the value serving military personnel, Reservists, veterans and their families bring not just to our society, but also to our college. It is therefore with great pleasure; South Staffordshire College announces it has signed the Armed Forces Covenant.
The Armed Forces Covenant represents a promise by the nation ensuring that those who serve, or have served, and their families, are treated fairly. Its key principles are that the Armed Forces community should face no disadvantage compared to other citizens in the provision of public and commercial services; and that special consideration is appropriate in some cases, especially for those who have given the most, such as the injured and the bereaved.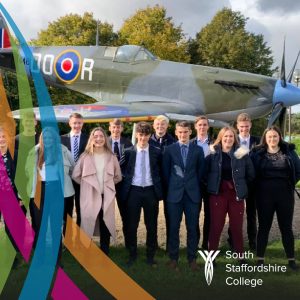 South Staffordshire College has an established relationship with the Armed Forces through its public services course, which runs from the Tamworth College site. Tutors teaching on the Armed Forces course are all former Armed Forces personnel, so not only bring a wealth of knowledge but wealth of opportunities to our students through their connections. Throughout the duration of their course, public services students regularly engage with the Armed Forces on work experience and expeditions, as well as leading in the college's Remembrance Day activities. This ensures our students are ready to take up roles within the Armed Forces upon completion of their courses, which lots do each year.
Claire Boliver, Chief Executive Principal at South Staffordshire College said, 'We have always recognised the invaluable role our Armed Forces play in society but we are so pleased to be able to show our formal support by signing the Armed Forces Covenant'.
South Staffordshire College pledges to support members of staff who may wish to become members of the Reserve Forces, as well as providing training to supporting forces personnel back into civilian life.
"We are thankful to the executive team at Staffordshire College for the amount of positive engagement throughout the process of their signing of the Armed Forces Covenant. The pledges to support staff members, who chose to join the Reserve Forces, or become Cadet Force volunteers, will help strengthen Defence capability and further develop relations between Armed Forces personnel and the communities they serve. They are working with the Military Academic Partnership which will help to strengthen links with the Royal Navy, Army and RAF, to further raise awareness of the various career options available in the military."
To find out more about how you can sign the Armed Forces Covenant, and mutual benefits of partnering with Defence, contact the West Midlands Employer Engagement team at wm-eeao@rfca.mod.uk or visit www.armedforcescovenant.gov.uk/