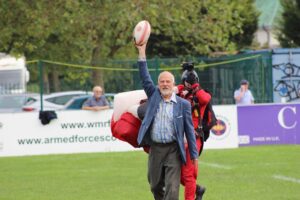 The match day ball made a spectacular entrance from the skies at Birmingham Moseley Rugby Club's (BMRC) first match of the season against Sale FC Rugby Club, parachuting into the stadium with the Red Devils Parachute Display Team.
The display formed part of the club's military match day event, which also included a 'Military Village' in their grounds and free entry to the match for members of the Armed Forces and their families.
Representatives from local military units including the Royal Navy, 237 Supply Squadron – 159 Regiment Royal Logistic Corps, 202 Field Hospital, A Company 5th Royal Regiment Fusiliers, No. 605 (County of Warwick) Squadron and Headquarters Army West Midlands set up activity stands in the Military Village for the home and away supporters to enjoy.
They were also joined by Air Cadets from 493 (Kings Heath & Moseley) Squadron, Military Preparation College of Training, Fisher House (part of the University Hospitals Birmingham charity) and Unmanned Air Veterans.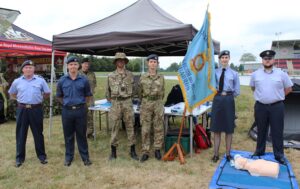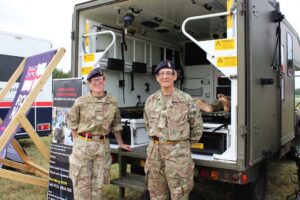 To make the first match of the season an extra special day to remember, BMRC signed the Armed Forces Covenant in front of guests and the club's supporters; formally pledging to support the wider forces community.
A number of forces-friendly employers were also invited to the match day and to watch the signing in the Reddings Suite over lunch, preceding the match kick off.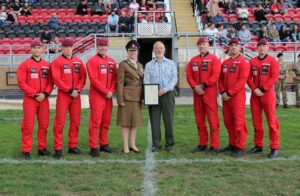 The signed covenant was proudly presented on the pitch at half time by one of the club's Board Members, Robin Johnson, and Lieutenant Colonel Jane Wallace-Phillips, Second-in-command of 202 Field Hospital, accompanied by a performance by Warwickshire Army Cadet Force Corps of Drums.
Robin commented on the day, sharing: "There was great excitement at Birmingham Moseley Rugby Club on 3rd September, not only with the presence of various sections of the Armed Forces, but also to have the match ball delivered by the Red Devils just before kick-off at 3pm.
"The event was spectacular and the whole of the crowd did appreciate this fantastic show to kick off our 150th season.
"On behalf of the Directors of Birmingham Moseley Rugby Club, we thank you for your excellent display."
Find out more about the Armed Forces Covenant and our work with regional employers.
Stay up to date with BMRC's latest news and fixtures.
Published 11/10/2022