Stoke-on-Trent City Council has reaffirmed its commitment to the Armed Forces Covenant and is encouraging local organisations to also pledge their support.
The Armed Forces Covenant is a promise to those who serve, or who have served, in the Armed Forces and their families that they should be treated with fairness and respect. The city council has a Defence Employer Recognition Scheme (ERS) Silver Award, which is presented specifically to employers who have signed the Armed Forces Covenant and demonstrated and communicated supportive behaviour to Reservists, service leavers, Cadet Force Adult Volunteers (CFAVs) and their families.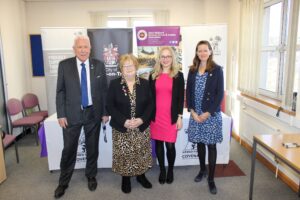 The re-signing ceremony was attended by Stoke-on-Trent City Council's Armed Forces champion and Secretary of the North Staffs Armed Forces Celebration Committee, Cllr Lilian Dodd; City Director, Jon Rouse; leader of the city council, Cllr Abi Brown; Director of Public Health and former Army doctor who served in the Falklands, the Gulf and Yugoslavia, Dr Paul Edmondson-Jones; and Ministry of Defence representative, Colonel Richard Maybery QGM from West Midland RFCA.
Cllr Dodd said, "I am incredibly proud to be the Armed Forces Champion and delighted that the city council continues to reaffirm its commitment to the Armed Forces Covenant.
"I hope that this provides an example to other organisations across Stoke-on-Trent to officially pledge their support by signing the Armed Forces Covenant."
Leader of the city council, Cllr Abi Brown said, "Residents are extremely proud of our city's wonderful Armed Services Personnel who have made so many sacrifices on our behalf. Stoke-on-Trent was recently recognised as the kindest city in the UK and it's easy to see why with initiatives like this coming forward.
"We work closely with our partners to support our veterans and those with a connection to the Armed Forces. I am very keen to extend this support and work with other organisations and employers across the city to promote the Armed Forces Covenant and encourage others to make the same commitment."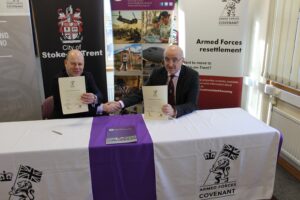 Colonel Richard Maybery QGM, Chief Executive of West Midland RFCA commented, "On behalf of the Armed Forces community, I was delighted to re-sign the Armed Forces Covenant with Stoke-on-Trent City Council. The Armed Forces have a very strong relationship with the council and the city of Stoke-on-Trent. There are four Reserve units and Army, Air and Sea cadets based in Stoke-on-Trent and veterans and serving personnel who have made their home there.
"In re-signing the Covenant, the council have demonstrated their unwavering commitment to supporting the Armed Forces family across Stoke-on-Trent and are a driving force in encouraging the community to do the same.
"That support has been led from the top, by both members and officers, over the years. The support is not taken for granted and we look forward to continuing to develop our relationship."
Anyone who wants to get involved or find out more about support available for the Armed Forces can contact Stoke-on-Trent City Council on 01782 232751 or covenant@stoke.gov.uk.
Find out more about the Armed Forces Covenant.
Published 07/02/2022