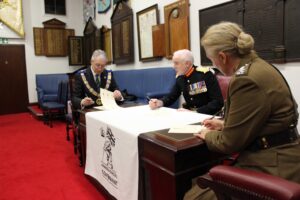 Worcestershire Freemasons have made a formal pledge to support former and current military personnel and their families.
The Armed Forces Covenant is a promise to those who serve, or who have served, in the armed forces and their families that they should be treated with fairness and respect.
The Head of Freemasonry in Worcestershire, Robert Vaughan, in company with the Deputy Lieutenant of Worcestershire, Senior Officers of the Armed Forces, representatives from the Royal British Legion, SSAFA and Armed Forces Veterans, gathered together to conduct the formal signing of the Armed Forces Covenant at Worcester Masonic Centre at Rainbow Hill.
By signing the Covenant, Worcestershire Freemasons joined the United Grand Lodge of England (UGLE) in demonstrating its support to members of the Armed Forces in a number of areas, including education, family wellbeing, getting a home, starting a new career, access to healthcare and financial assistance.
Worcestershire Freemasons have a proud Armed Forces background through its military lodges. This partnership therefore represents an important step in further supporting both active and retired military personnel.
Robert Vaughan, said: "It was a great pleasure to welcome the Deputy Lieutenant, other senior military personnel and our own members to witness our signing of the Armed Forces Covenant. It represented the ongoing strong support of Freemasonry, and Worcestershire Freemasons in particular, to present and past members of our Armed Forces."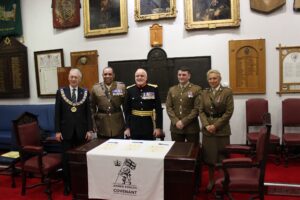 Find out more about the Armed Forces Covenant.
Find out more about the Freemasons in Worcestershire.
Published 04/02/2022