One of the key outputs of our Association is our work to advocate and promote support for the Reserves, cadets and wider military family.  This involves working with employers, local authorities, youth and the wider communities on different projects and events to raise awareness and develop new relationships between the military and civilian communities.
Over the past 18-months face-to-face activities have been largely curtailed due to the pandemic.  But as we are slowly starting to return to some in-person events within Covid-19 safety guidelines, new opportunities and community events are starting to take place once again.
So what community projects and events have we been involved in recently?
The DRIVE Initiative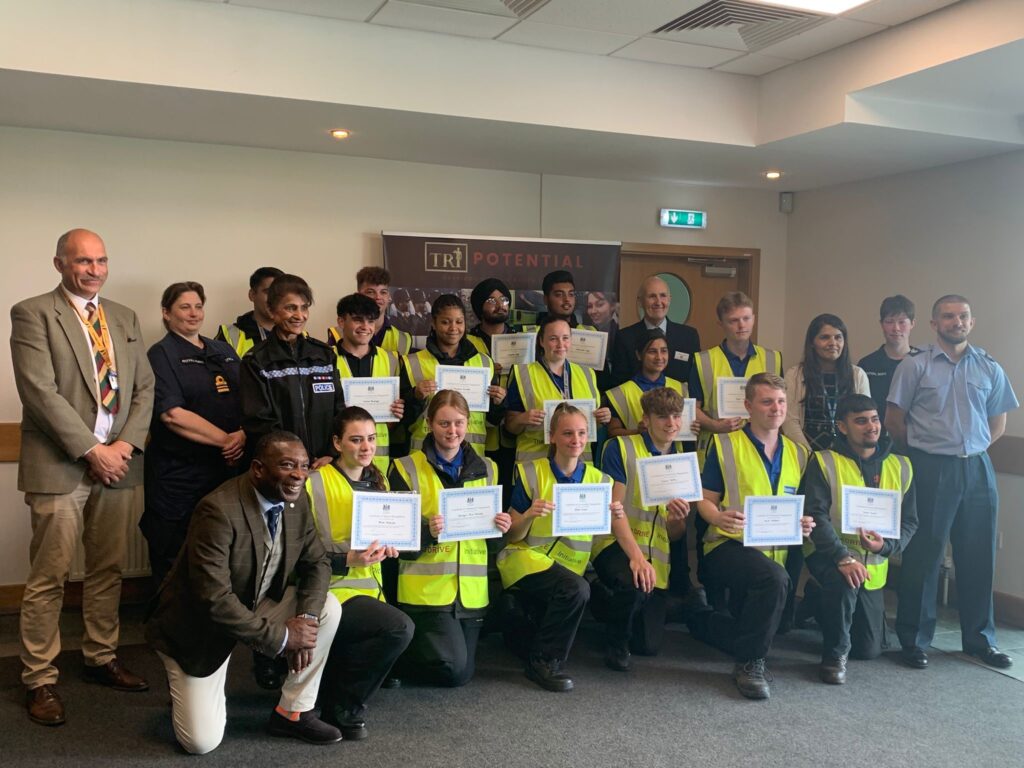 Schools, colleges and youth groups were encouraged to attend the two-day event at Birmingham City University to find out more about the career opportunities across the military and blue light services.  Led by the West Midlands Lieutenancy, the event had representatives from all three military services, the police, fire and rescue services and ambulance services, as well as education providers and people development enterprises.
Not only could young people learn more about future career roles, but they also had chance to take part in leadership activities and see how their STEM skills can be used in practical ways. It was an ideal event to inspire young people aged 15-25 years old to consider careers and development opportunities within these sectors.
Business Leader's Investment Breakfast event

Hosted by Oldbury-based real estate and investment business Richardson, their event at The Hawthorns was attended by business leaders and guests from across the Birmingham and Black Country regions.
Primarily a business networking event with a panel discussion around the great business investment opportunities in the region, it was also attended by key speakers including the West Midlands Combined Authority Mayor, Andy Street and Dr Jason Wouhra MBE.
Members of the business community, public sector leaders and military representatives were able to connect with each other and explore ways they can work together to benefit the wider communities.
You can watch a short video from the Richardson event.
Hereford & Worcester Chamber of Commerce HR event
At Hereford & Worcester Chamber of Commerce's recent virtual HR event, attendee by over 35 people, our Head of Engagement, Siamha Butt, presented an overview of the Armed Forces Covenant and what it means to businesses.
For some organisations the covenant pledges will fit with their Corporate Social Responsibility actions, or could provide a basis for companies to help align their pledges to support Defence.
It will also help to ensure that no employees who are from the wider forces community will unfairly face disadvantage.
Siamha Butt, said of our recent activities, "Community engagement enables us to reach out to disadvantaged communities and under-represented  groups  in the Reserves and Cadet Forces. It enables us to bring military activity alive via practical activities such as Midland Leaders Challenge, leadership and development activities and sports activity. It is important as it helps to not only educate people on what the Armed Forces can offer, but seeks to build bridges and foster mutual understanding."
To find out more about the opportunities that the Armed Forces could bring to your groups and community events, please contact our Head of Engagement, Siamha Butt, on wm-headeng@rfca.mod.uk
You can find out more about our upcoming events on our events calendar.
Published 05/10/2021