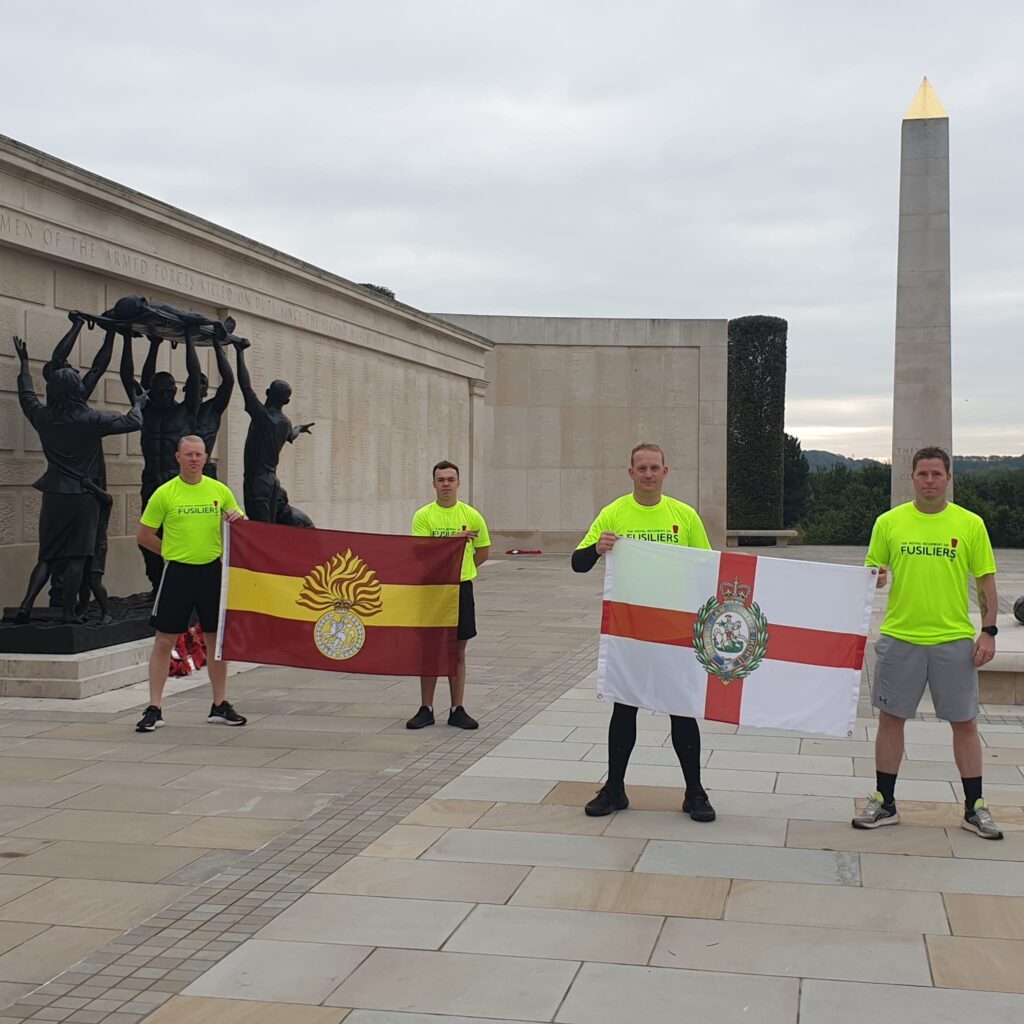 Six Army Reservists from A Company Fifth Regiment of Royal Fusiliers (5RRF) in Birmingham have completed an intense 300-mile run from Wiltshire to Newcastle-upon-Tyne – in just 72 hours.
Tackling the challenge head on with sheer determination, each pair of runners covered approximately 33 miles per day, for three days.
Setting off at 4am from the First Fusiliers Regimental Headquarters in Tidworth, the team's route took them through villages and cities, along canal paths and via various landmarks across the country.  Members of the public turned out to support the runners as they covered the miles, offering words of encouragement and well-received brew breaks.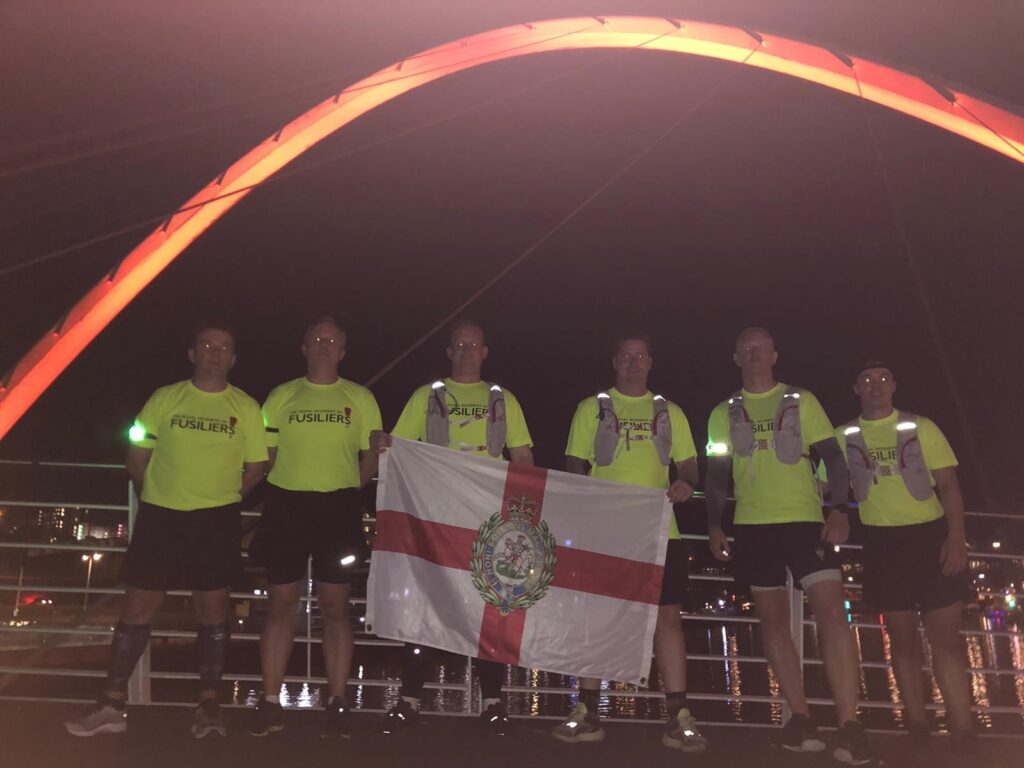 During the event the team encountered many challenges, ranging from a lack of sleep, the terrain, rush hour traffic and temperatures up to 24 degrees.
The ability to administrate themselves, utilising skills they have learnt during their time in the military, was key to their success. That coupled with a good sense of humour ensured the team's desire and ability to continue was maintained.
By taking part in their 'Running Fusiliers' challenge the group have been raising vital funds towards important mental health causes and assisting The Fusilier Aid Society and Anxious Minds charity; both of which support serving soldiers and veterans that may be struggling.
The team reflected on their epic journey by collectively agreeing that it was one of the hardest things that they have ever attempted.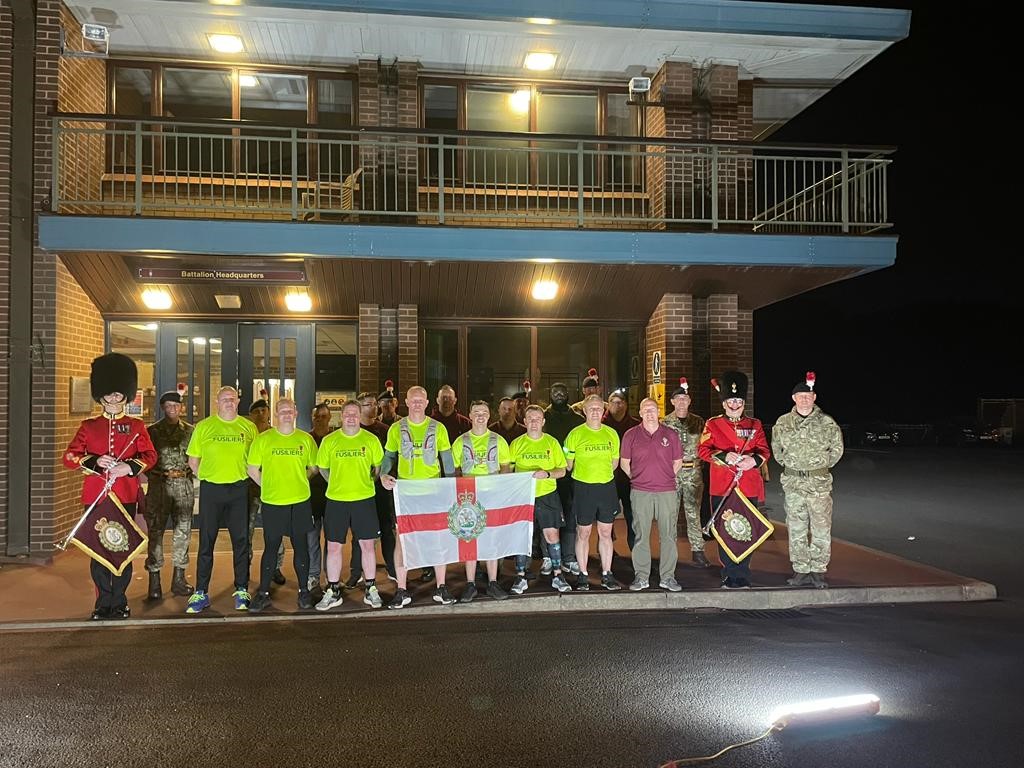 They commented, "When the initial idea was suggested, we never fully understood what we had agreed to do.  As the event started, only then did we realise the enormity of the challenge ahead. The support we have received by everyone, including complete strangers along the route has been amazing and we have been truly humbled by people's generosity."
You can add to their fundraising total via the team's Just Giving page.
The 5th Fusiliers are an Army Reserve regiment with locations in Newcastle, Bury, London and Birmingham.  As an Armoured Infantry unit they provide support to their regular counterparts in the First Fusiliers Regiment.
Find out more about opportunities with 5RRF and the Reserve Forces in your area.
Published 04/10/2021