In June, all 160 Year 10 cadets from Rugby School Combined Cadet Force (CCF) had the pleasure of dedicating their day to enriching the local community.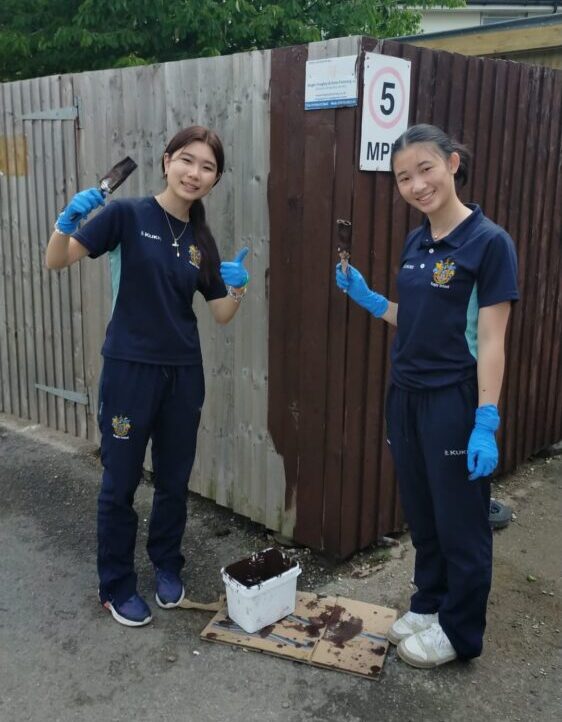 Galanos House, Southam – Meeting Military Veterans
A group of 30 cadets visited Galanos House in Southam, a care home for military veterans under the Royal British Legion's care. Their tasks were as colourful as the fence they painted – varnishing flower troughs, benches, fences, and sheds, alongside the refreshing spray-washing of pathways. Additionally, they planted climbing roses, bringing a touch of nature's beauty to the surroundings.
London Road Cemetery, Coventry – Preserving History
In a historic partnership with the Commonwealth War Graves Commission (CWGC), 60 cadets undertook the crucial task of maintaining and cataloguing military gravestones at London Road Cemetery, Coventry. This marked the maiden collaboration between the CWGC and a school. The diligent cadets washed and scrubbed over 80 headstones, meticulously cutting the grass and weeding around each one. Their mission also involved photographing each headstone to support future restoration and upkeep efforts. Using the CWGC app, cadets found the fascinating stories behind each individual, including the tales of several George Cross recipients from WW2.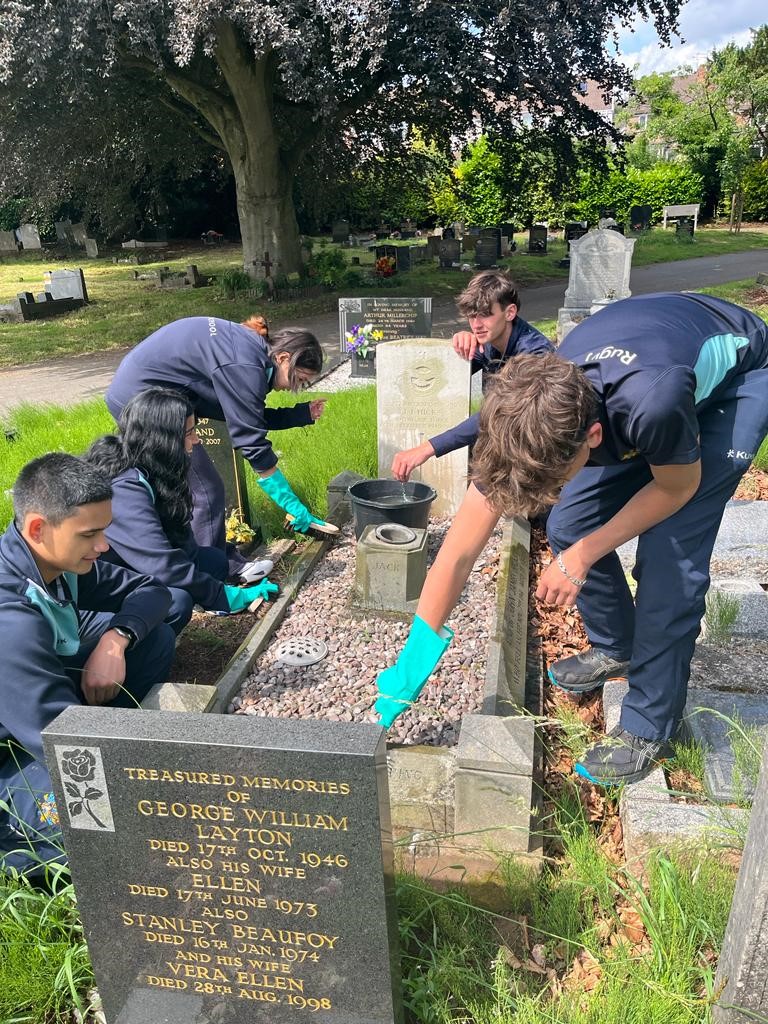 Sherbourne Valley Project, Coventry – Nurturing Urban Wilderness
Meanwhile, another group of 60 cadets embarked on an adventure at the Sherbourne Valley Project in Coventry. Spearheaded by the Warwickshire Wildlife Trust, this initiative focuses on urban rewilding. Cadets engaged in river water sampling to evaluate water quality in the River Sherbourne by counting indicator species. Alongside this, they built insect homes to foster pollination and nurture urban biodiversity.
Kingsbury Water Park, Sutton Coldfield – Taming Nature's Intruders
30 cadets journeyed to Kingsbury Water Park, a sprawling 600-acre brownfield site near Sutton Coldfield in the West Midlands. This nature reserve, rewilded by the Warwickshire Wildlife Trust, was under siege from the invasive Himalayan Bolson plant species, which flourish along riverbanks. The cadets valiantly eradicated over 10,000 of these plants by hand, ensuring the health and spread of competing plant species. Another task involved removing ivy from some of the trees. Though not a parasite, ivy can strangle a tree over time. The cadets trimmed ivy stems, aiding tree preservation.
The Rugby School CCF community 'Service Day' was a remarkable day of dedication, community engagement, and environmental stewardship. These young cadets, through their commitment and hard work, not only showcased their passion for service but also made a substantial impact on their community and the environment. It's a testament to the values instilled by the CCF program, nurturing responsible citizens and future leaders. Well done all!
Find out more about the Combined Cadet Forces.
Published 31/08/23