Exploring and improving your leadership style, building resilience and adaptability were the key themes of Coventry and Warwickshire Chamber of Commerce's recent 21 in 21 webinar.
Launched in March 2021, the 21 in 21 scheme is providing mentoring to 21 aspiring women in different business sectors and career stages, across the Coventry and Warwickshire region. With the support of individual mentors who have forged successful careers in their chosen fields, they have been offering their advice and experience to develop the talents of their mentees.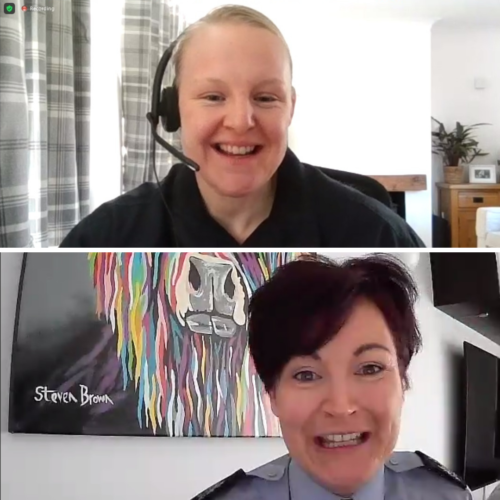 As a sponsor of the scheme, West Midland RFCA has worked closely with the Chamber to offer their group inspiring insights from personnel with military backgrounds – providing different perspectives from the Royal Navy, British Army and Royal Air Force – showing just how applicable and transferable these skills can be to a civilian business career.
The Chamber welcomed both Warrant Officer (WO) Caroline Burns and Midshipman Sophie Wakeford as key speakers to speak about their personal experiences.
WO Caroline Burns started her military career as a dental nurse within the Royal Air Force. Over the next 30 years she developed her skill sets and is now serving as a Training Officer on Fulltime Reserve Service (FTRS) with No. 605 (County of Warwick) Squadron Royal Auxiliary Air Force, based at RAF Cosford.  The squadron currently has over 70 Reservists with a mix of specialists including logistics, chefs and RAF Police.
Midshipman Sophie Wakeford joined HMS Forward Royal Naval Reserve as an Officer Cadet in 2019, and completed her Initial Officer Training Programme at the Britannia Royal Naval College in 2020.  As a Systems Engineer at Jaguar Land Rover and BAE Systems, she wanted to add an extra challenge to her life after graduating from university, and the Royal Naval Reserve provided that perfect balance alongside her civilian career.  With the support of her employer she has also been lucky enough to spend one month on board HMS Prince of Wales, the Royal Navy's newest aircraft carrier, where she gained new skills and the chance to see military leadership in action.
Both Caroline and Sophie shared their inspirational experiences and personal approaches to leadership in their own careers. They also outlined how their respective services have taught them to be better leaders though the services' core principles, and how to adapt to different situations.
The top ten leadership and adaptability key take away points:
Emotional intelligence – being aware of how others may see and feel about situations is key to being a good leader. Consider that not everyone in your team may share your viewpoint, try to understand others from their perspective and put yourself in their shoes. Be self-aware and consider how your actions may affect others.
Moral integrity – have the moral courage to do the right thing, consider your professional duties over personal interest.
Create opportunities to allow team members to practice their skills, create direction and objectives to help them improve, encourage training and learning through mistakes.
Create a safe environment – encourage others to share ideas as a team, provide an environment that will allow both the team and individuals to thrive.
Honesty – let others know if you are struggling with tasks. A problem shared! An opportunity to get feedback, support and come up with a strategy to approach the task in question.
Reflect on your own leadership style – there are six types of leadership as outlined by Daniel Goleman – you can adapt and use different styles of leadership to benefit different situations.
Practice – the more you practice, the more your confidence will increase.
Draw on experience – if you are unsure how to approach a task, can your own experiences or that of others help?
Create a vision – make it compelling, a long-term goal. Explain why but not how, to encourage creativity.
Don't be afraid to put yourself out there! If you have a good idea, great. If an idea doesn't work, you can use it as a learning curve for next time.
The 21 in 21 scheme will finish at the end of March 2022, with a new cohort picking up the reigns later this year. Find out more about the 21 in 21 programme.
You can read about some of the other inspiring personnel that have shared their stories for the 21 in 21 scheme on the news section of our website.
Published 02/02/2022