Formed in 2014, Eclipse Strategic Security is a largely Military Veteran owned and managed Security Consultancy, delivering a broad range of training and security services to industry, corporate organisations and individual clients, across the UK.  Based in Herefordshire, Eclipse focusses on enhancing organisational resilience and provides consultancy services to enable organisations to protect their assets, people, information and reputation.
Our strong organisational ethos is derived from qualities and attitudes that can be directly attributable to the military careers of the company management:
The Pursuit of Excellence
Integrity
Customer Relationships
Loyalty
In keeping with our commitment to the quality of our service, we recognise that the company's lifeblood is its staff.  As such, we place a high priority on identifying, selecting and recruiting staff with resourcefulness and a committed attitude to our ethos, promoting a culture of teamwork, integrity and the desire for continued development.  With a high number of former military personnel amongst our staff we are confident in their ability to show intelligence and consideration, ensuring key judgements under pressure.  As an ethical employer, the company is committed to providing ongoing training and development and pays particular attention to best working practice; as such, we are members of the SIA Approved Contractor Scheme for manned guarding.  Although stringent best practice measures are applicable to all staff, it ensures all our veterans welfare considerations are auditable via the scheme.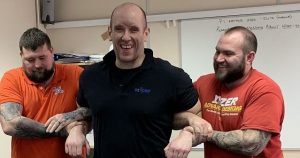 Managing Director – James Court
After leaving the Army with an unblemished, twenty-six-year military career that culminated as a Warrant Officer 1st Class, James decided to take his project management and liaison skills to 'civvi street', starting his career as a Security Consultant in 2011.  In 2014 James decided to enter the business world and became a founding member of Eclipse Strategic Security Ltd, the first project involving the provision of site security and security consulting services to a UK, land based, Oil and Gas site.
 "With the liaison and project management skills I learned in the Military, it seemed like a natural progression to enter into business.  I was able to immediately apply these skills and experience that I had gained, and whilst I didn't initially know much about business, I knew the right people to ask for help".
CEO – Ray Fellows
Ray left the military after a seventeen-year career that started in the Argyll and Sutherland Highlanders and finished in the UK Special Forces, in 2002.  With a passion for learning that was developed within his time in the military, Ray obtained a Masters Degree in Security Management in 2011 and became a Chartered Security Professional in 2019.  After an international career that included Project Management, Training and Security Management, in places such as Libya, Algeria, Chad and Qatar, Ray moved back to the UK and began working with Eclipse in 2015.  Ray joined the Senior Management Team of Eclipse in 2018 and now focusses his efforts on leading the team that develop the business strategy and service provision of Eclipse.
Project Security Manager – Chris Fraser
Chris is a former Royal Marine Commando serving in Afghanistan, Kosovo and Iraq, and brings a wealth of military experience and expertise to the organisation.  On leaving the military in 2011, Chris worked in maritime security roles prior to joining Eclipse in 2015.  Chris was initially engaged as a contracted Security Officer before moving on to become Team Leader.  Chris joined the company on a full-time basis in early 2019 and is now a Project Security Manager primarily running a project for an onshore UK based oil company.  Chris brings a no-nonsense approach to the role and has a great rapport with all those he leads.  He is self-motivated and is currently studying towards a Level 4 Certificate in Security Management.
Project Security Team Leader – Dave Stirling-Brown
Dave started working with Eclipse in 2016 after a varied career that included gardening, construction and Close Protection.  Dave provides valuable support to the company in his roles as Security Team Leader, Close Protection Officer and within the Training Department.  In addition, Dave is fully committed as an Army Reservist and the company is pleased to support him in this role, recognising the benefits that his continued military training brings to his security career.
'Eclipse has supported me in my Reservist career, seeing the benefit of both the civilian and military qualifications I have gained, as an asset towards my employee development.  They have been understanding and flexible with the sudden changes in my training schedule, helping me to feel like a valued employee and Reservist.'