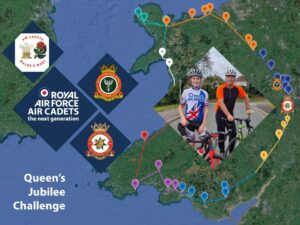 A determined cadet from 451 (Stourbridge) Squadron Air Training Corps is getting ready to take on an epic 600-mile cycling challenge.  Cadet Sergeant Alex Brown will be joined by his father, Ash Brown, who is also the Chairman of their civilian committee, as they start the route on the 27th May which will take them around the perimeter of the Wales & West Air Cadets region.
Taking in the whole of Wales, the route will also cover parts of Staffordshire, the West Midlands and Worcestershire.  Together they will stop off at 34 of the region's Air Cadet squadrons en-route to visit their wider Air Cadets family.
With many events taking place across the UK this year to celebrate the Queen's Platinum Jubilee, Alex decided that their cycling challenge would be a fitting way to mark the occasion.  The end of their challenge on 3rd June also coincides with the Queen's Platinum Jubilee central weekend celebrations.
Not only will the challenge mark the jubilee, Alex and his father are hoping to raise £5000 along the way to purchase canoeing equipment for their squadron and enhance some of the amazing opportunities that their cadets can take part in.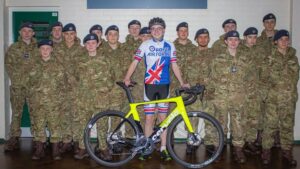 Cadet Sergeant Brown said about their upcoming challenge: "The Air Cadets has been an amazing experience for me over the past four years. There are so many opportunities on offer and our staff are incredible in encouraging and showing you to maximise them.
"I know I'm trying to raise funds, but I also want to showcase just how much support and encouragement the Air Cadets offer when it comes to challenging yourself and taking on adventures.
"It is simply the best youth organisation there is and I'd encourage anyone to make contact with their local Squadron and give it a go, it's life changing.  Do it today!"
Good luck Alex and Ash! You can read more about their challenge and donate via their GoFundMe page, and stay up to date with their latest training updates via the squadron's Facebook page.
Find out more about the Royal Air Force Air Cadets.
Published 01/04/2022