The investiture for all of the First Sea Lord Cadets took place on Friday 11th February on board HMS Victory. In our first blog post written by the cadets,  Petty Officer Cadet (POC) Meghan Ballard, from the Phoenix Collegiate Combined Cadet Force (CCF) Royal Naval unit, and Cadet Corporal Megan Rowley, a Royal Marine cadet from Redditch & Bromsgrove Sea Cadet Corps (SCC) unit both share their experiences and memories from the day.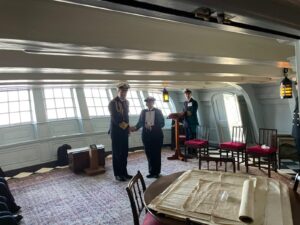 POC Ballard spoke of her experience: "this year I was lucky enough that the investiture was in person and that my parents and cadet officer Lieutenant Roberts (who was as excited as I was for the day's events!) were able to attend.
"The day was packed with exciting things starting with the presentations onboard HMS Victory with the First Sea Lord Admiral Sir Ben Key. I then got to go on a boat tour around the historic dockyard where we followed HMS Lancaster in. There was a tour of HMS Duncan where the crew had a chance to show us round where they work and lived, they also talked about their roles onboard which was communicated about with much enthusiasm.
"To finish I was able to have lunch in HMS Nelson's wardroom which gave me a chance to talk to all the other fellow Sea Lord Cadets from the Combined Cadet Forces, Volunteer Cadet Corps and the Sea Cadet Corps. I was also able to have a small conversation with Commander Philippa Edge about what I hope to achieve this year as First Sea Lord Cadet – this included trying to boost the profile of the Combined Cadet Force to enhance the opportunities and get a good kick start back after COVID-19!"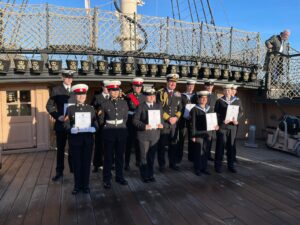 Having arrived the day before, Cadet Corporal Rowley went to explore Portsmouth harbour – "During the tour of the harbour, my mum and I had the opportunity to see HMS Warrior, HMS Victory, and also HMS Prince of Wales and HMS Queen Elizabeth were berthed there too. The sight was breathtaking – where else can you see the past, present and future all in one place!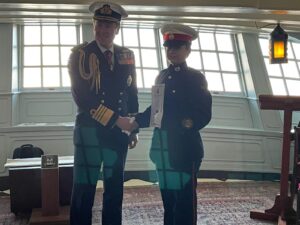 "I checked into my hotel room and met one of the other First Sea Lord Cadets, from the North-West Area. I find it strange and wonderful that you can go away with cadets, and you share a room with someone you have never met before, and immediately become best friends. This is what I love about the cadet family, literally after 15 minutes, we knew everything about each other."
"I remember walking down to HMS Victory my heart was beating so fast it was like it was trying to get out of my chest! We were called up one at a time and our citation was read out. When I listened to the one written for me it  felt strange because I cannot believe how much I have done throughout my time in cadets. Once the citations were read, we had the opportunity to explore the deck of Victory and had the chance to take some wonderful photos. We also had the opportunity to have a picture with the First Sea Lord and the other cadets.
"After our visit to HMS Victory, we were transported to a boat to go out to sea and watch HMS Lancaster come back from deployment. This was an amazing experience because we got to see HMS Prince of Wales, HMS Queen Elizabeth, and HMS Lancaster. We watched HMS Lancaster for about 30 minutes while she was coming in. It was a wonderful experience seeing the excitement on the sailors' faces as they are coming home after a long time away. We were in a small boat, and it is good that I do not get seasick because the seas was very choppy.
"Our next stop was HMS Duncan which is the last type 45 destroyer that will be built for the Royal Navy.
"During the ops room visit, we had a talk on how types of threats are detected. This was amazing to listen to because this room is normally top secret, and few people will ever get to access the room.  On the bridge we got to see the amazing view which just happened to be HMS Prince of Wales,  we had a look around and got to sit in the Captain's chair.
"My favourite was visiting the medical room because once I finish my A-levels I am hoping to join the Royal Navy as a medical officer. Here I had the opportunity to look around and ask many questions about different career pathways in my chosen branch. I enjoyed this the most because it has given me more of an insight into my future career and how to get the best possible experience.
"Throughout the day we must have taken over 100 photos from this wonderful experience – I cannot wait for the next event."
Published 05/04/2022