Across our region the Reserve Forces are busy completing training, exercises and activities at their units.  Reservists from our only West Midlands based Royal Auxiliary Air Force Reserves at No. 605 (County of Warwick) Squadron have been no different.
The squadron shared a round-up of their activities with us – read all about why 2022 has been a productive year for their Reservists so far…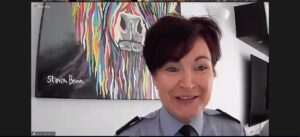 Inspiring others to be effective leaders
In January our Association co-hosted a workshop with Coventry and Warwickshire Chamber of Commerce as part of their 21 in 21 business mentoring initiative, with the focus on effective leadership.  Warrant Officer Caroline Burns was one of two keynote speakers to deliver a fantastic talk to guests about analysing leadership styles and how to be a better team member and leader.  Sharing her positive outlook and personal experiences, she provided an inspirational talk for the next generation of aspiring women who are at different career stages in their varying business sectors. You can read more about Caroline's leadership and adaptability presentation.
Phase 2 training
In the same month a number of their Reservists started their Phase 2 training, which follows on from their basic military skills training.  Introducing their specialist training roles it allows the Reservists to start their 'trade' training within the squadron.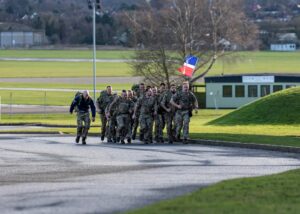 Celebrating the 80th anniversary of the formation of the RAF Regiment
February started with a physical challenge as personnel at RAF Cosford commemorated the 80th anniversary of the formation of the RAF Regiment, which was formed on the 1st February 1942.  An 80km 'tab' around the station was organised, with one-hour legs being completed over 24 hours.  24.5kg of weight was carried by each participant in their webbing and bergens – which included two of 605 Squadron's RAF Regiment instructors.
Airfield support training
The squadron's mechanical transport drivers flight travelled to RAF Waddington to receive an introduction to airfield support, snow and ice equipment.  The training forms a vital role within their trade in order to keep all aspects of an airfield operational during the colder winter months.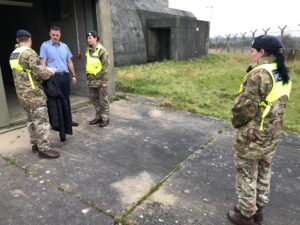 Stop and search training
In preparation to support their regular counterparts on law enforcement duties and at the upcoming RAF Cosford Air Show in June, members of the police flight at 605 Squadron refreshed their skills on arrest and stop and search techniques.  The training culminated in their Reservists demonstrating their capabilities and skills in a variety of different scenarios to put their skills into action.
Refreshing forensic skills
Securing and preserving evidence correctly can make the difference between a successful prosecution or an acquittal.  As a pioneer in the forensics field, Dr Edmond Locard created the basic principle of forensic science; 'Every contact leaves a trace'.
Working to these principles, the police flight from 605 Squadron joined Reservists from 502 Squadron based at RAF Aldergrove, and 2624 Squadron based at RAF Brize Norton, for a refresher course on their forensic skills.  Receiving their training from an RAF Police Crime Scene Investigator from the Scientific Support Unit at RAF Henlow, personnel honed their skills with theoretical and practical training.
C category driver training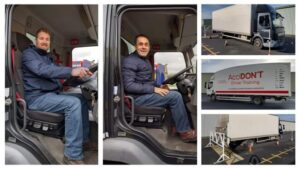 A number of Reservists completed their category C Driver Training at MOD Stafford. These qualifications ensure that the squadron is able to enhance their specialist capabilities to support Defence activities – and can also have the added bonus of potentially benefitting their civilian careers with an additional driving qualification.
RAF Reservist, Jonathan, said of the training: "It's an interesting experience; air brakes, automatic box, filled with a full load of 17 tonnes and around the roads of an, at times, grizzly weathered Stafford."
Protective security
Protective Security is one of the fundamental roles of the RAF Police.  It teaches personnel to ensure their own safety and that of others, and also how to keep equipment safe.
Through an awareness brief and demonstration from an RAF Police Protective Security Operative at 2624 Squadron at Brize Norton, Reservists from both 605 Squadron and 2503 Squadron at RAF Waddington shared skills and built on their knowledge.  To test their expanding skills they conducted a security site survey of a location housing aircraft before reporting back on their findings.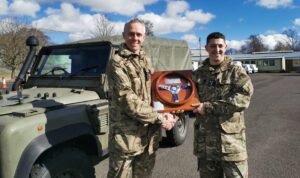 Driver of the Year Award
Senior Aircraftman Cartwright was presented with the Squadron's 'Driver of the Year Award'.  The award was created in memory of Senior Aircraftman Jon Wilkes from their squadron, who sadly passed away.  Each year it will be presented to a driver on the logistics flight who has shown outstanding attributes towards training and wider support to the entire squadron.
Interested in joining them?
Originally formed in 1926 in Castle Bromwich in Birmingham, the squadron went through many changes before disbanding in 1957, and eventually reforming in 2014.
Today No. 605 (County of Warwick) Squadron is based at RAF Cosford and they recruit from across the Midlands area, specialising in training logistics (suppliers, mechanical transport drivers and chefs) and RAF Police personnel.  Find out more about the squadron and follow their latest news on Facebook.
If you are interested in finding out more about the RAF Reserves or what being a Reservist involves, check our webpage about the Reserve Forces.
Published 04/04/2022