A British Artillery Officer's exchange with 1-125 Field Artillery, Minnesota National Guard
People often think of the differences when they work with military from another country, but what is actually most interesting are the similarities.  It is heartening to know that some things are universal.
In order to be able to pack correctly for what would be an extended stay in the US, I had requested my host unit provide me with a kit list of items they expected me to take.  Upon receipt of the list I noted items in an angry red box, noted as forbidden.  They included; alcohol (fair enough, no one likes overly rowdy soldiers), flammable and  explosive materials, and… video game consoles.  Unsure why an Xbox rated the same status as explosives, but deciding that I wasn't doing multiple long distance flights in 2022 without something decent to play, I opted to bury my Nintendo in the bottom of my bag and hope that no one searched me for contraband on my entrance to Camp Ripley.
However, on first being invited into one of the tin huts being used to accommodate the bulk of the Battalion I noted, with some surprise, the propane tanks that fuelled a cooker and gas heater in the middle of the room. Turning my head, I spied a video game console hooked up to a projector mounted on one wall.  Immediately (and very kindly) I was handed a beer from a cooler in the corner.
I was later informed that the kit list was quite significantly out of date.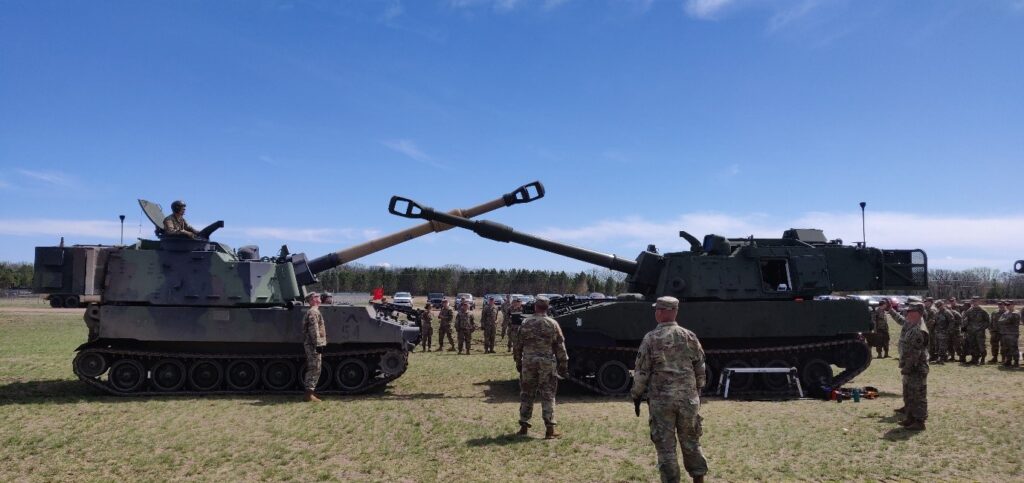 My hosts, 1-125 Field Artillery Regiment, Minnesota National Guard, have had a busy few years.  Between preparations for mobilisation to Kuwait, then the sudden actual deployment to their state capitol in the wake of the George Floyd murder (as well as ahead of the verdict on the same case), and the training required to support their other ongoing commitments; the Battalion has emerged tired but proud of its accomplishments.
The refit from the A6 to the new A7 variant of the M109 Paladin Self-Propelled Gun, and getting skilled up and qualified on it, necessitated a much slower pace for the Battalion's Annual Training and, in many respects, a much needed chance to slow down and recuperate.
While the Staff Officers got to practice the Military Decision Making Process the Battalion's gunners were learning the ins and outs of their new weapon system, including a decent amount of time for assimilation.  Mornings were to be spent in the motor pool, working on the equipment, with late afternoons freed up for other activities.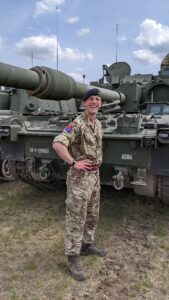 The A7 itself provides some significant advantages over its predecessor.  Gone are many of the hydraulics that drove much of the older system, replaced with significantly more reliable high-voltage electrical systems that are not only easier to maintain but also put much less strain on the power plant during fire missions.  This results in a much quieter item, right up until the thing goes bang.  The ramming system has been overhauled as part of this, able to get a round into the breach of the gun in a 'terrifyingly-quick-in-motion' one and a half seconds, a significant improvement over the older system's four.
A bigger system overall, the A7 also sacrifices it's full 6400 mil turret rotation in favour of a neutral-turn capability that enables the hull to pivot-in-place to achieve targets that are out of axis.  This requires drivers to be much more engaged in the process of fire missions, something that is assisted by new screens that enable both buttoned-down and all-weather driving through IR camera displays, and fire mission data to be shown to them.
While the gunners were being trained up, members of the Battalions' support company were proving their worth with both vehicle-mounted and personal weapons on the ranges, firing .50 calibre machine guns in anti-ambush drills as well as undertaking the US Army's new marksmanship qualification with their rifles.  The latter is something the author is pleased to report he passed first time, despite a lack of familiarity with some of the more basic functions of M4 Rifle.
As well as the new shooting qualification the US Army has just adopted its own new fitness test, in another parallel with our own recent training changes.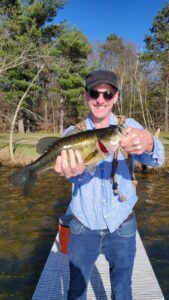 A slower pace did give me the opportunity to enjoy some of the other elements of being in America in general and Minnesota specifically.  My first ever fishing trip yielded me a small bass in only slightly more time than it took for the person who issued me my license to figure out how to get letters into the postcode field.  My first ever golf trip confirmed my suspicion that I should stick to indirect weapons with an area of effect, while a brief, but eye opening, trip to The Mall of America (the nations supposed largest Mall) proved to me that most things (saving perhaps cemeteries) can be improved by the building of a theme park in the middle of them.
I tried a local delicacy in the form of a pint of lager with a pickle in it, as well as a round of paintball, in which I was mercifully not singled out too much for being British. I also got to try my hand at Frisbee Golf, which went about as well as the regular golf but was significantly more comfortable to play.
Finally we came to the firing of the weapons themselves, during which I was given the honour of firing the first round of the day, and indeed, the first fired by the 1-125FAR from any of the A7s. Presented at the end of the training with one of the Battalion Commander's Coins and an engraved hatchet (that I immediately sliced my thumb open with) I departed for Minneapolis St. Paul Airport with slightly bleary eyes and, I hope, a better understanding not only of the differences between our two nations' Reserve Forces, but the similarities too.
Captain SW Crisp VR
210 Battery, 103 Regiment Royal Artillery
Find out more about the Reserve Forces on our website – www.wmrfca.org/reserve-forces/
Published 21/06/2022