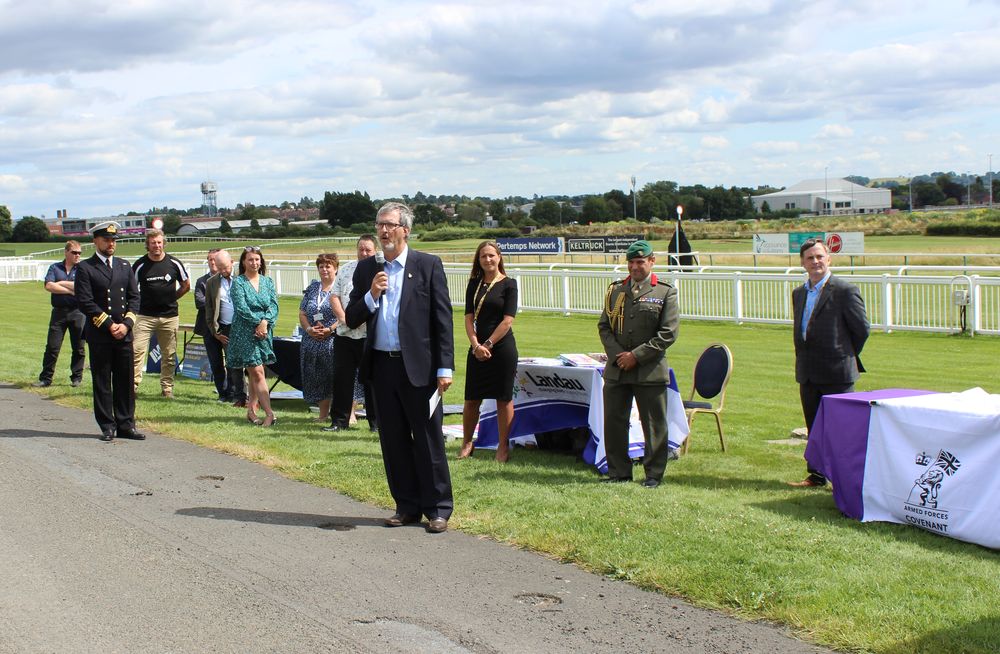 West Midland Reserve Forces & Cadets Association were in attendance at the Military to Business event at Hereford Racecourse on the 29th of July 2021.  The event was organised and managed by New Model Institute for Technology and Engineering (NMITE), a Gold Award holder on the Ministry of Defence's (MoD) Employer Recognition Scheme.
Over the past 3 years NMITE has been committed to working closely with military and veteran communities, both in Hereford and further afield; offering dedicated and easily accessible support to veterans seeking access to new avenues of employment and education, particularly in the fields of engineering.
Sam Lewis (HR Director, NMITE) commented, "As Gold award holders of the Armed Forces Covenant, supporting military and veteran personnel on their educational and career journeys sits close at the heart of our NMITE endeavours and I'm delighted to see so many businesses and military folk at our event. We have doubled our event footfall since 2019 and it's truly heartening to see so many likeminded supporters attending today."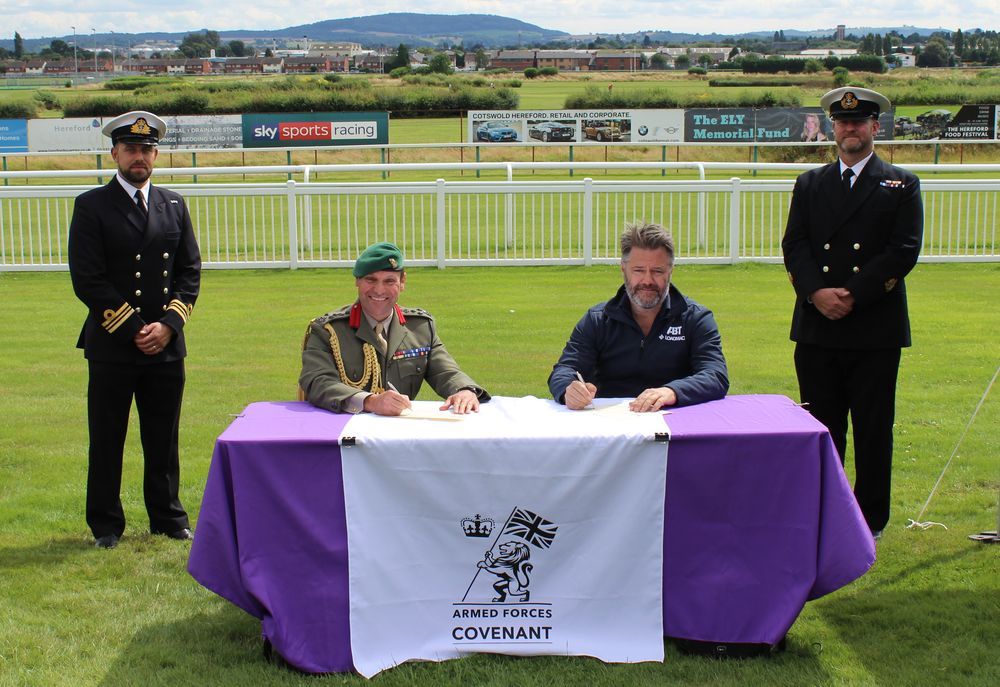 Military to Business brought together organisations from healthcare, training and education, automotive, technology, engineering, communications, digital, manufacturing and charity sectors, to showcase the support that they provide to the Armed Forces community, through their engagement with the Armed Forces Covenant. Organisations were keen to highlight the opportunities available to veterans, service leavers, military spouses, Reserves, senior cadets, and Cadet Force Adult Volunteers with the many forces-friendly businesses in Herefordshire.
A total of 41 separate organisations were represented from across the region, and nationally. Amongst them were eleven holders of the MoD's Employer Recognition Scheme Gold Award, nine Silver Award holders and a handful of Bronze Award holders.
Three organisations took the opportunity to publically sign the Armed Forces Covenant alongside Brigadier Jock Fraser RM, the Naval Regional Commander for Wales and West England, representing the Ministry of Defence. Two organisations, ABT Products Ltd and Hereford Veteran Support Centre were new signatories to the Covenant.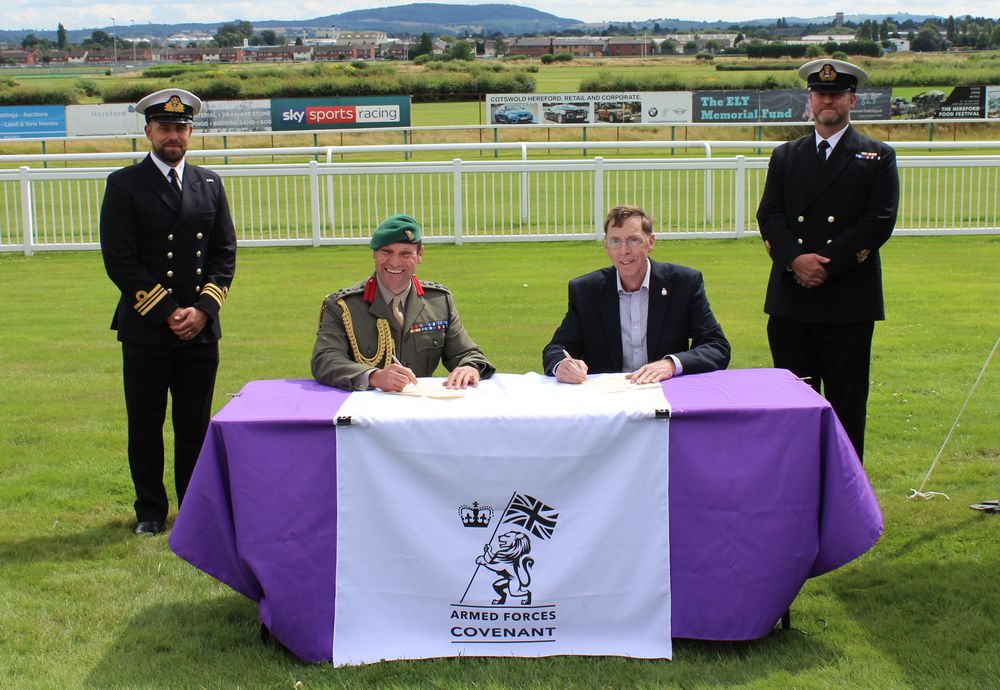 Herefordshire and Worcestershire Health and Care Trust re-signed the covenant, reinforcing their commitments previously made as separate Trusts, but now amalgamated and re-branded; an opportunity to update and refresh how they support the Armed Forces community in their two counties. Many congratulations and a very warm welcome to the covenant family is extended to all three organisations.
Royal Marines Brigadier Jock Fraser, Naval Regional Commander Wales and West England commented, "I was delighted to attend the NMITE military to business showcase today and it was a privilege to sign the Armed Forces Covenant with ABT Products, the Herefordshire Veteran Support Centre and the Herefordshire and Worcestershire Health and Care NHS Trust.
"In signing the Covenant these companies have formally recognised the contribution serving regular and reserve personnel, veterans and service families make to the local community and surrounding area.  The Armed Forces continue to enjoy tremendous support in the region from the public we serve, and I hope that the pledges today will inspire other organisation to sign the Armed Forces Covenant too."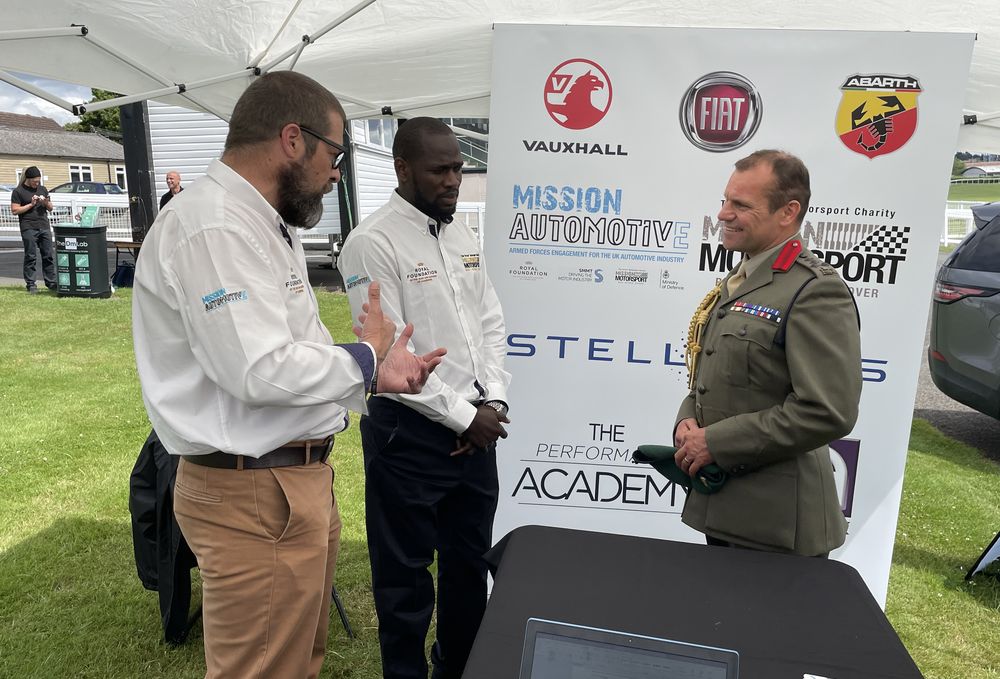 Phil Sinclair, Regional Employer Engagement Director said, "Military to Business was a fabulous event, and after such an extended period where engagement has been confined to phone calls, emails or framed by a little box on Zoom, it was a huge pleasure and very exciting to finally catch up with so many fantastic organisations, employers and service providers, most of whom, I have had the pleasure and privilege of working with over the last three years, some of whom I met face to face for the first time!
"It was particularly humbling to be in the company of so many organisations that freely give their time and support to ensure the Armed Forces community are not forgotten or left behind, and who are great advocates for the Armed Forces Covenant. A huge thanks is extended to the fabulous Samantha Lewis, of NMITE, whose vision this was, and who plans to go bigger and better next year. She can be assured of our support!"
Find out more about the Armed Forces Covenant and Employer Recognition Scheme Awards.
Learn more about NMITE and their work in the Herefordshire region.
Published 04/08/2021