Three outstanding cadets from the Worcestershire region have been chosen as the new Lord-Lieutenant's Cadets for the forthcoming year.  Annually, the Lord-Lieutenant for each county appoints several young people from their area to serve as the new Lord-Lieutenant's Cadets.  These hail from the Sea Cadets, Army Cadet Force, Royal Air Force Air Cadets, Combined Cadet Forces and other uniformed cadet organisations.  Each cadet is selected for their exemplary achievements and development within their organisations.
The role of the Lord-Lieutenant's Cadet is to assist the Lord-Lieutenant in his/her duties, which often involves being present at parades, high profile regional events, Remembrance ceremonies and Royal visits.  Acting as representatives for their respective youth organisations, it is an important role that they undertake with pride.
Held as a virtual Investiture Ceremony in April in accordance with COVID-19 safety guidelines, Her Majesty's Lord-Lieutenant for Worcestershire, Lieutenant Colonel Patrick Holcroft LVO OBE CStJ, welcomed both the incoming and outgoing cadets, their families and representatives from the youth organisations to celebrate the achievements of their young people.
The outgoing Lord-Lieutenant's Cadets are:
Petty Officer Cadet Beardshaw – Redditch & Bromsgrove Sea Cadet Unit
Cadet Sergeant Chapman – Evesham ACF
Cadet Flight Sergeant Bateman – 156 (Kidderminster Sqn) ATC
Sharing her experiences as a Lord-Lieutenant's Cadet during the pandemic, and of her cadet journey to date, Cadet Flight Sergeant Bateman commented, "I was proud to receive such a prestigious award and despite the year, it has still been a privilege to hold the position and to represent all Air Cadets in Worcestershire.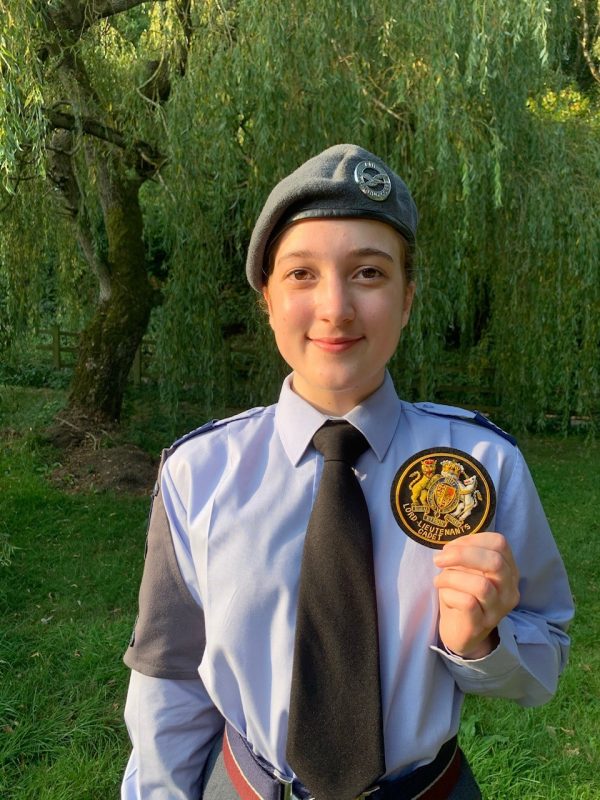 "My favourite cadet experience was when I went to RAF Akrotiri in Cyprus in 2019. This was my first overseas camp.  It was a week of fieldcraft, shooting, fitness, initiative exercises, and first aid. We also had beach trips and went go karting!
"It was challenging but always fun and, as a newly promoted Flight Sergeant, it was a brilliant opportunity for me to improve my leadership skills."
Cadet Sergeant Chapman, the ACF Lord-Lieutenant's Cadet, left his appointment early to embark on a career in the Royal Navy and is currently serving as an apprentice Engineering Technician training to become a submarine engineer.  Able Rating (as he is now) Chapman joined the virtual ceremony from HMS Sultan in Portsmouth and was presented with his Lord-Lieutenant's Certificate by the Ratings Training Group Senior Engineer at the Defence School of Marine Engineering; Lieutenant Commander RN Jonathan Tweed.
Former Cadet Sergeant Chapman commented, "The ACF instilled in me self-discipline and pride in my appearance and gave me the opportunity to develop my leadership aptitude.  My ACF experiences have prepared me well to get off to a good start in my new career in the Royal Navy."
The new incoming Lord-Lieutenant's Cadets for the 2021/2022 are:
Cadet Sergeant Lovatt – Halesowen ACF
Cadet Sergeant Moore – 187 (Worcester) Sqn ATC
Cadet Corporal Rowley – Redditch & Bromsgrove Sea Cadet Unit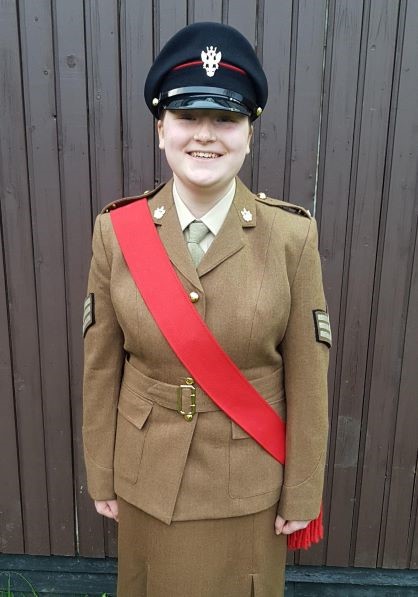 The new Lord-Lieutenant's Cadet from Hereford & Worcester Army Cadet Force, Cadet Sergeant Lovatt, said of her appointment, "I am proud to be a Lord-Lieutenant's Cadet because I am able to represent the detachment, company and county that have given me so many opportunities over the last few years.  I am looking forward to new experiences, meeting new people and visiting places that I haven't been to before.
Giving us an insight into her personal cadet highlights, she added, "My favourite experience as a cadet so far has been going to the Welbeck Defence Sixth Form College, as I learnt about many different aspects of the army by taking part in some of their daily activities.
"I particularly enjoyed working with the Royal Electrical and Mechanical Engineers, where we worked as a team to tow a broken-down Land Rover!"
Congratulations and well done to all of the outgoing and incoming cadets for Worcestershire.
Find out more about the Lord-Lieutenant's Investiture and Award ceremonies.
More information can be found on our website about the Cadet Forces.
Published 03/06/2021