To celebrate Reserves Day we spoke to Sergeant Karim from 116 Provost Company, 1st Regiment Royal Military Police about her journey as an Army Reservist and her involvement in sport within the Army.
Sergeant Karim is currently a Regimental Mentoring Support Officer (REMSO) responsible for the running of recruitment events, the recruitment application process for civilians who want to join the unit, and the transfer of existing personnel from other units into the Royal Military Police Reserve.
She has been in Full Time Reserve Service for less than a year, but has been a Reserve Soldier since December 2015. She explained: "I remember wanting to be a soldier since I was a toddler at playschool and pulling out the uniform from the dressing up box. I think my parents hoped that it was a phase that would wear off, because back then the Army was a different beast. My parents half-jokingly said to me 'If you go to university first and get a degree, you can do whatever you want afterwards.' I went to university, got a degree in Physiotherapy, started working for the NHS whilst setting up a private practice and covering Pitch side physio for football teams, which I can tell you now is definitely one way to feel thrown in at the deep end at the start of your career! However, the challenges my civilian employment brought me weren't enough, so I joined the Army Reserve.
"After completing Phase 1 training I joined 116 Provost Company Royal Military Police with absolutely no policing background. Regular or Reserve, you can do almost anything you want to in the military, because all three Services are prepared to train you from zero to hero if you're willing to learn.
"In my first year as a Lance Corporal I went out on all the engagement events on offer, much like I do now. Then I did a bit of policing: I've done traffic management down in Dartmoor to get 2,400 teenagers up to Okehampton camp for the Ten Tors navigation challenge, and 2021's Liverpool Remembrance parade where we had the terrorist incident, but realised policing wasn't for me.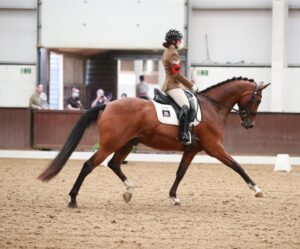 "So, I took advantage of the fact that the Army, now more than ever, has a vested interest in transferable skills. When you join the Army Reserve now, you'll join a cap badge and complete your trade training, but you won't be limited to just doing that. During COVID the Army started scouring the whole of the Army Reserve to see what civilian skills they had in things such as logistics, planning, first aid qualifications, all sorts. Because they recognised that unlike a lot of the Regulars who joined fresh out of school or after one form of occupation, and therefore didn't always tend to hold such a diverse skill set from their trade requirements, the Reserves did.
"As one of my hobbies is dressage riding and I had done some coaching, I decided to utilise this and I joined the Army Equitation Association, because believe it or not, the Army pays me to be on duty to do sport. My plan was to just participate as a rider, but once I paid my membership and submitted my bio form to go with it, they caught wind of my experience and I don't know how it happened, but I started up first ever Army Dressage Team in 2018. It is made up of both Regular and Reserve soldiers who are the top 10 dressage riders in the British Army, and I've had 5 years managing that team from regional level competition through to national level.
"Their training location is at the Defence Animal Training Regiment in Melton Mowbray, where the King's Troop and Household Cavalry bring their horses up to rest in the fields between ceremonial work. It's also where they train riders from across a number of establishments to complete their riding instructor courses, so I was lucky enough to be invited to teach the instructors at Defence Animal Training Regiment whilst training there with the Dressage Team.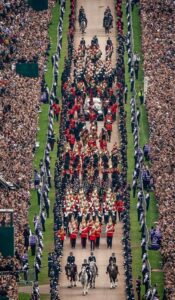 "I was given the opportunity to coach both The King's Troop Royal Horse Artillery and The Household Cavalry in dressage. The additional training was good for Troop morale and develops the riders proficiency on parade for events such as the State funeral and the Coronation.
"In the last year I've taken on the role of Army Equitation Chef d'Equipe  and I now manage the assurance side of the three Army Teams in Show Jumping, Eventing, Dressage, and support the 15 Corps level teams. I co-ordinate the Inter-Service Championships for our sport and Royal Windsor Horse Show Services Jumping Class, which runs annually in the grounds of Windsor castle and attracts approx. 10,0000 to the overall event on the day.
"I've also been extremely lucky to compete as an Army rider myself, winning the UKAF Championships in Dressage and the Nations League Final against the Netherlands in 2021. I have also been supported as a Tier 3 Army Elite Athlete since 2020.
"So why has the Army put so much money into supporting my sporting activities, particularly at a time when Russia is invading Ukraine? For the same reason that they send units on adventure training, or regimental skiing exercises every January.
"Sport prepares soldiers for operations by enhancing your physical and mental fitness, building resilience, leadership and teamwork. It fosters pride, cohesion, humility and the ability to thrive under pressure. Sport in the Army is key to the way we operate to protect our nation and instils the will to win. These are all arguably attributes we risk losing in today's society, and are attributes that Reservists then take back to their work places and thrive.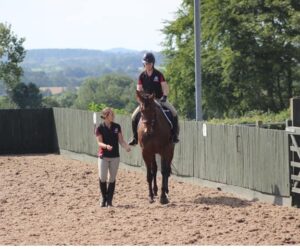 "What started out as challenging myself in sport, has now grown into challenging myself in other ways. As a corporal I took on a role as the training JNCO for my unit, where I was responsible for the planning and delivery of Company level training for two years. Unfortunately COVID hit and just like everyone else, the Army wasn't immune and the Army Reserve stopped all non-essential training. I didn't want people to lose engagement in the Company due to lack of training, so I delivered a total of 18 weeks of entirely virtual training during both lock down periods.
"After a Covid safe return I threw myself onto courses so that I could deliver as much training as possible, so I can now run ranges on Rifle, Pistol and General Purpose Machine Gun. I am a qualified as a Skill at Arms instructor to assess everyone for weapon handling safety. I had First Response Emergency Care, First Person on Scene and Medicine in Remote Areas qualifications from my physiotherapy background, so I did the Battlefield Casualty Drill Instructor course.
"I've been extremely lucky to have had such a rewarding Army Reserve career so far, and in my role as REMSO I feel like I've done a full circle; I started out my time with 116 helping on recruitment events and I'm now going back to this.
"I love my job and the likeminded people I work alongside. The work we do between us all brings in new candidates through my door every week, and it's exciting to think that every one of them could have an amazing career ahead of them."
Find out more about the Royal Military Police.
Find out more about Tri-Service Reserves.