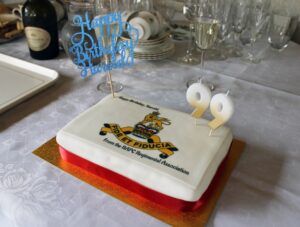 A 99-year old veteran has been clocking up the miles by walking laps around his bungalow to raise funds for a charity close to his heart.
Lance Corporal Harold Jones from Sutton Coldfield in Birmingham was inspired by the fundraising walks of Captain Sir Tom Moore, and began walking daily circuits (down one side of his bungalow, across the back and back again) during the first lockdown of COVID-19, as a way to keep fit and active.
After losing two close friends to motor neurone disease Harold decided to use his daily walks to raise funds for the Motor Neurone Disease Association (MNDA).  After steadily increasing his walking goals to 40 circuits per day, to date he has walked 27,615 circuits totalling 439 miles, and raised  £20,994 for the charity in the process.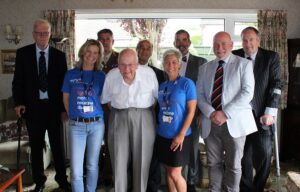 In July to honour his achievements, members of the Royal Army Pay Corps (RAPC) Regimental Association visited Harold's home to formally present him with a plaque of the regiment's crest, with an added section relating to his fundraising, to mark his 99th birthday.
Close friends and former High Sheriff of the West Midlands, Mr Keith Bradshaw and his wife, also attended to celebrate the occasion alongside West Midland RFCA's Head of Finance, Steve Launchbury (former RAPC) and Amanda Bourne and Amanda Devlin from the MNDA.  Amanda has been working closely with Harold to help raise the funds and profile of his charity work.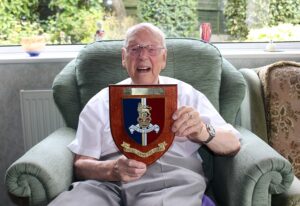 Harold said:  "Although I have raised funds for MND, in the process it is my health that has really benefited. I was determined not to just sit and watch television etc, because when you're lax of exercise it brings other problems; you cannot turn the clock back."
Amanda Bourne, a Community Fundraiser for MND added: "Harold's tireless efforts to raise funds and awareness for people affected by motor neurone disease is so very much appreciated by all of us here at the MND Association, and the families which those funds are benefitting.
"MND is a devastating disease and if it wasn't for amazing fundraisers like Harold, we wouldn't be able to provide the services that we do to give hope to the families affected. We can't thank him enough for his efforts and his willingness to help others is an inspiration to us all. It has been an honour and a privilege to personally meet and support Harold with his activities."
From Donnington to Bombay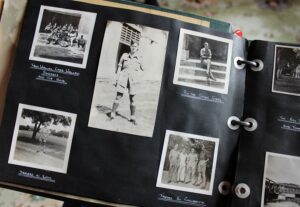 Lance Corporal Jones served in the Royal Army Pay Corps between October 1942 and 1947.  He started his initial Army training at Donnington in Shropshire, and during his military career he saw service in RPO Reading, India and Burma.  His service involved a range of appointments including Imprest Account auditing and being the Commanding Officer's clerk/typist.
"This was because I had volunteered to learn to type so that I could work in a pay office near the front line –  I had been able to type since the age of 13," Harold commented, adding, "I had ignored the old army advice 'never volunteer for anything'."
Harold recounts his time during the Second World War in India and Burma as being very different to military life in 2022.  Whilst today's soldiers are kitted out in uniforms adopting the latest temperature and climate technology, he remembers arriving on his posting in Bombay in long trousers to protect him from the sun's heat, before his unit were marched with full kit bags and a rifle (in temperatures of 110° f) to a transit camp at Kalyan.
He added "I am not sure now how long it took but I do remember that some dropped by the wayside and an ex 'Desert Rat' helped to carry the kit of some of the others.  We discovered later that there was a rail line to part of the camp but they were experimenting to see if troops could march the distance.  The journey was never forgotten by those who took part."
Harold also recalls travelling in a very old basic troop train where you lifted the seats to store rifles. The train itself had no washing facilities, the toilet was a hole in the floor.  Meals during the two-day journey from Bombay to Allahabad consisted of "bacon without bread, or for a change, bread without bacon!"
During his overseas service Harold was a keen photographer, documenting his experiences, the countries, cultures and friendships he made along the way.  He also kept a small autograph book of sketches and paintings which was added to by local artists, fellow soldiers and new found companions.
How to support Harold's fundraising
Harold is continuing his walks and aims to carry on his fundraising for the MNDA as long as he can.  To find out more about his fundraising and how to donate, visit his Just Giving page: https://www.justgiving.com/fundraising/harold-jones4
Published 03/08/2022