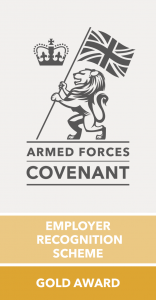 One of our supportive employers and Gold Award holder on the Employer Recognition Scheme have put together the article below to highlight the benefits of the Armed Forces Covenant to other organisations.
The Armed Forces Covenant is the nation's commitment to those who protect us. It is a pledge that your organisation understands that those who serve or have served deserve to be treated with fairness and respect. It is recognition of the many sacrifices that members, former members and their families have made in service of their country.
Harrison Clark Rickerbys
Harrison Clark Rickerbys (HCR) proudly signed almost 6 years ago in 2014 and has since sought to encourage others to follow suit. We endeavour to ensure that no serving or former member, or their families, face any disadvantage in obtaining legal advice as a result of their association with the Armed Forces. We have adopted various new practices across our HR processes such as recruitment to ensure we encourage service personnel and veterans to apply for our roles, but also support those already in post by ensuring we recognise their need for flexibility. Additionally, we ensure that members and former members of the Armed Forces are offered discounted rates to ensure they have access to key legal services.
The Benefit
The commitment is undoubtedly mutually beneficial. Former service personnel, Reservists or Cadet Force Adult Volunteers (CFAVs) bring a range of transferable skills refined through their service. We recognise that such candidates are used to working to the highest professional and behavioural standards and do so with selfless commitment to the team and to the wider organisation.
We employ veterans and Reservists in various roles and the unique skills they bring directly benefit our business. For example, Emma Humphrey served in the Intelligence Corps for 5 years before being medically discharged in 2016. Emma joined the firm in 2017 as Defence Adviser and Paralegal whilst studying for her law degree at University of Birmingham. By 2020, Emma had completed the LLB, LPC and LLM and undertook her first seat as a trainee solicitor in Commercial Dispute Resolution in September 2020. Emma regularly uses the skills obtained through military service to benefit our clients such as using Open Source Intelligence (OSINT) skills in support of matters ranging from security of costs to the disclosure process. Our clients directly benefit from Emma's knowledge of OSINT technologies and Cyber practices, and we learn a great deal from her.
When you recruit from the Armed Forces community, you gain an individual who brings with them the core values of life in service, discipline, selfless commitment and integrity among them. The individual skills range from leadership through to tradecraft such as signals communications and the intelligence trade craft described above that can improve the way you deliver services to your clients.
Among our clients, we count former service men and women who have gone on to start innovative businesses. It gives us great pleasure to help them at every stage of their journey from first leaving the forces through our transition workshops to assisting with intellectual property or commercial advice. These services are underpinned by the commitment we made in 2014 and now embodied in our dedicated Defence, Security and the Forces Sector Service (DSF).
Our commitment to the Armed Forces Covenant is a point of pride as a firm. We are Gold Award winners in the Defence Employer Recognition Scheme, the highest accolade attainable. Together, these pledges tell the nation that we passionately support the Armed Forces and wider defence community.
To benefit as we have, your organisation can take positive steps to encourage the Armed Forces community to use your services or apply for your roles. The best way to do so is by signing the Armed Forces Covenant; indicating to your clients, our Armed Forces community and the nation that you proactively support those who serve our country. It could not be easier and organisations such as the West Midland Reserve Forces & Cadets Association are there to guide you at every stage.
What is expected of you when you become a signatory? Understanding. As a signatory, your organisation is expected to commit to members or former members of the Armed Forces. For example, you could take measures to recognise equivalent military skills and qualifications and consider offering guaranteed interviews, internships, and work experience opportunities to veterans or transitioning members of the Armed Forces.
To take the next step visit https://www.wmrfca.org/employers/armed-forces-covenant/ where you can find a host of information, events and contacts dedicated to helping you to make your pledge to the Armed Forces Covenant. Feel free to contact our head of DFS sector, Richard Morgan (rmorgan@hcrlaw.com) for more information.