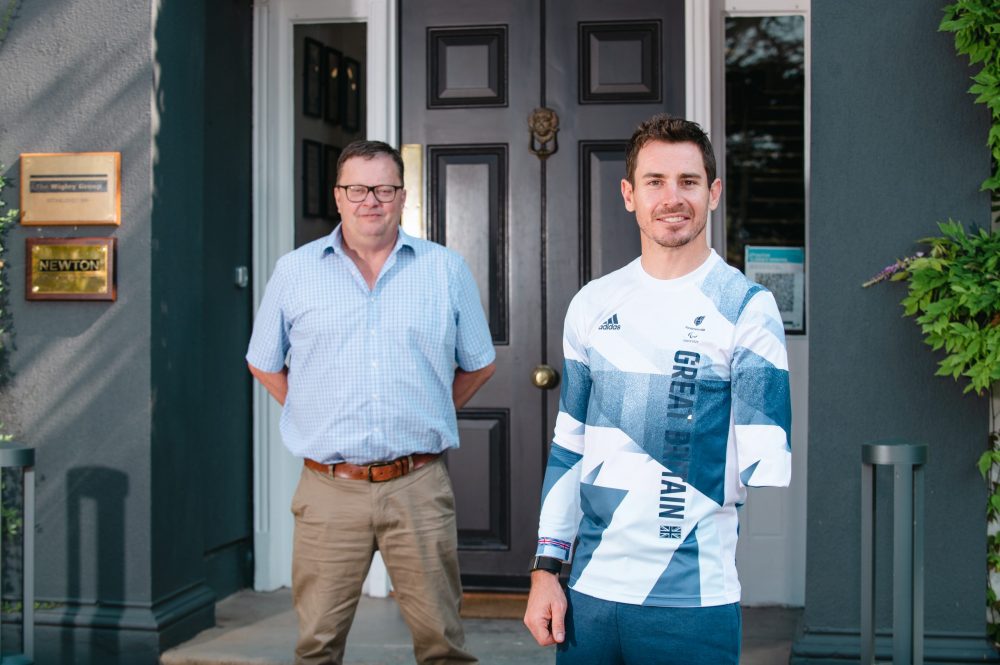 Three times World Champion cyclist Jaco van Gass — who is sponsored by Midlands property investment company The Wigley Group — has been selected to represent Team GB at this summer's Paralympic Games in Tokyo.
The former paratrooper has been a brand ambassador for the company since their sponsorship of him began in 2018, and is a driving force behind the Wigley Support Fund, which helps injured serving and veteran service people transition from military to civilian life.
Jaco, who is based in Manchester, will compete in the MC3 classification in five events: the individual pursuit, the 1km time trial, and team sprint on the track, and the individual time trial and road race on the road. In his sights are three medals, including at least one gold.
The 34-year-old Paralympic athlete suffered life-changing injuries in 2009 after being hit by a rocket-propelled grenade during his second tour of Afghanistan. It resulted in the loss of his left arm at the elbow.
After leaving the Armed Forces, he turned to cycling and was inspired to pursue a career as a professional athlete as a spectator at the 2012 Paralympic Games in London.
Robert Wigley, Chairman of The Wigley Group and the Wigley Support Fund, said: "Along with all of the Team GB Paralympians, Jaco is an inspiration and it's a feeling of great pride for us all at The Wigley Group to know through our sponsorship we have made a contribution to helping him to realise his Paralympic dream.
"We've known him for a number of years through our association with the official Parachute Regiment charity, Support Our Paras. He has overcome some huge challenges in his life, professionally and personally, and he has faced them head-on and generally with a smile on his face.
"The road to the Paralympics has been long and not without bumps along the way, so we wish him all the best and look forward to seeing him on the podium out in Tokyo."
Jaco said The Wigley Group's support had been key to him earning his place in Team GB for the Games as a Paralympic athlete, which take place from 24th August to 5th September.
"The Wigley Group really bought into this dream that I had to become a Paralympian," he said.
"I'm hugely grateful for their support and what they've done, and much of what I have achieved in the sport is due to them.
"It's thanks to them that I have been able to train and prepare as best as I possibly can and to provide myself with very hi-tech equipment like prosthetics that have allowed me to make big gains, and other equipment that have been game changing.
"A lot of their time and effort has gone into supporting me and other ex-armed forces through a number of initiatives, so it was a wonderful feeling when I was able to give something back by telling them it had paid off and that we were going to be on the plane to Tokyo."
The Wigley Group has raised £100,000 for Support Our Paras during an association with the charity that began in 2013, and in 2017 the Wigley Support Fund (WSF) was established to support and help re-train injured serving and veteran service people in all areas of their transition from military to civilian life, such as physical and mental rehabilitation to further education and skills training.
The company has also signed the Armed Forces Covenant, which is a promise by the nation to ensure that those who serve or who have served in the armed forces, and their families, are treated with fairness and respect, and to ensure they have the same access to government and commercial services and products as any other citizen.
Find out more about The Wigley Group.
Read more about how your organisation can support the forces community.
Published 04/08/21