Uniformed staff and civilian instructors at Warwickshire and Birmingham Wing Air Training Corps have demonstrated their resilience and creativity over the past year by successfully converting their activities to the virtual world during the pandemic.
Whilst many youth organisations ceased their activities during lockdown, the Cadet Forces' have ensured that their young people have not missed out on vital social opportunities, training and fun during a difficult year.
By dramatically adapting their methods of teaching and training, Warwickshire and Birmingham Wing have continued to deliver online sessions to approximately 800 Air Cadets at 22 squadrons located in Birmingham, Coventry and Warwickshire.
"The speedy provision of new technologies such as MS Teams by our HQ has enabled all our volunteers to keep the Royal Air Force Cadets moving forward." Squadron Leader Simon Jennings, the Wing's Training Officer, explained.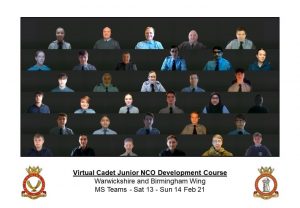 "We have being able to deliver not only our normal academic programme, ensuring that our cadets move forward in their careers, but we have also been able to offer events such as talks from serving members of the Armed Forces.
"I truly believe that the world of training will never be the same following this pandemic, if we weren't before, we really are now in the 21st Century!"
Like most of us by now, the Wing is no stranger to online activities like quizzes and virtual escape rooms organised by the dedicated volunteers.  They have also run online events and welcomed special inspirational guest speakers, including Flight Lieutenant David Simmons (Red 5 of the RAF Red Arrows), Squadron Leader Bonnie Posselt (RAF doctor specialising in Aviation and Space Medicine) and Dave Watson (former Guardsman, triple amputee and motivational speaker) to share their experiences and wisdom with the cadets.
Training has also played a big part in their virtual calendar, with all of the Air Cadets and staff being actively encouraged to develop and pursue their skills during lockdown.  This has ranged from formal courses to presentations focused on particular skills and aviation.
Acting Pilot Officer Jamie Poxon, from 194 (BSA) Squadron in Birmingham, is one volunteer who has adapted his training to the virtual sphere.  Jamie said, "During lockdown, I have delivered a variety of shooting presentations to give an insight into the shooting world for cadets who otherwise had no knowledge. The cadets were engaged, keen and asked plenty of questions during these sessions, with many stating that they'd like to learn to shoot when we return to face-to-face training!"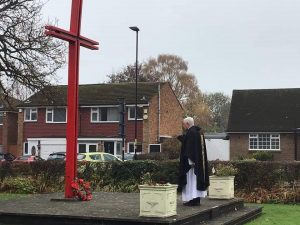 When lockdown restrictions permitted, cadets and staff have been inspired to take part in national events safely at home such as VE Day commemorations, the doorstep remembrance and socially distanced outdoor activities to raise funds for charitable causes.
The Training Officer for 495 (Sutton Coldfield) Squadron, Flight Lieutenant Brendan O'Neill, shared his perspective on how the pandemic had affected their squadron:"495 Squadron, along with most squadrons, continued to engage with its cadets throughout the lockdown period.  Even during the early months, when we thought that it might be just a short period, we felt that to maintain contact with the youngsters was important to sustain their involvement with the organisation and to allow them to hit the ground running on return of face-to-face activities.
"This was especially true of our newest intake who had been with the squadron only a matter of weeks.  These cadets attended a weekly online programme to complete the First Class syllabus.
"As time passed, we continued the online engagement and expanded it to include more social aspects of youth development, supporting the NHS, VJ and VE Day celebrations, Captain Tom and other notable events; encouraging them to make posters, raise funds, send thank you cards to local veterans etc.
"We also arranged for a number of guest speakers to talk on chosen subjects, a particular favourite was the Red Arrows pilot who bored us senseless with the life of a pilot in the world's best aerobatics team!
"In addition to squadron based training, we also joined the other five squadrons in the North Birmingham Sector to share the instructional load by taking turns.  Later, we were much assisted by the Wing Training Team delivering Air Cadet syllabus subjects via the new RAFAC "Articulate" system.
"Many cadets also took advantage of more specialist training provided in leadership, radio and cyber communications and other individual qualifications. The Squadron formed an online band and won the Wing Music ensemble competition. We have recently set up a Squadron Media Team to take advantage of cadets' knowledge in expanding our media footprint to reach a wider audience.  All of which has been done online.
When asked why continuing to support the Air Cadets was important to the instructors, despite all of their volunteers juggling their own work, life and home-schooling commitments, Brendan added, "Personally, I think maintaining contact with cadets has been vital, through our online connection we were able to highlight and allow access to mental health awareness and well-being initiatives.
"We had sports and physical exercise competitions, all done in isolation, many tied to the well-being and charitable activities.
"There were instances of individual cadets undertaking fund raising for their chosen charities and other acts of generosity, all of which augurs well for the future of the Squadron. We have a set of fantastic cadets, who will treat this period of their lives as an unfortunate hiatus, but not something which will keep them in check for long!"
A team of around 200 civilian instructors and uniformed staff supports Warwickshire and Birmingham Wing Air Training Corps.  Their volunteers come from a range of backgrounds and help to support the development of young people, guiding them through activities such as adventurous training and aviation, and teaching key life skills such as first aid and leadership.  It is a rewarding experience to see the Air Cadets grow as individuals, but there are also many opportunities for self-development by undertaking your own vocational qualifications and meeting new people.
Find out more about the Air Cadets and joining as a volunteer or cadet.
Find out more about all the Cadet Forces.
Published 31/03/2021