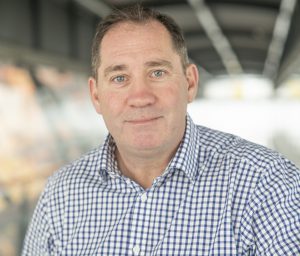 Major Gary Bilsbarrow, a Senior Lecturer at Warwick Manufacturing Group (WMG), University of Warwick, has been mobilised as an Army Reservist to Edinburgh to use his expertise to support the Scottish Government and NHS in their fight against the Covid-19 pandemic.
Gary lectures in Supply Chain and Logistics Management at WMG.  He is currently using his skills and experience as a logistician to support the Scottish Government in the COVID-19 crisis.
Having previously worked for DHL in Supply Chain Management for 20+ years before coming to WMG, Gary was mobilised at short notice and on a compulsory basis, to Brigadier Ben Cattermole's team at Saint Andrews House, Edinburgh.
Major Bilsbarrow has been an Army Reservist for 19 years; he was inspired to join out of a sense of adventure, to give something back, and to support the national effort in times of need.
He is now serving as a Major in the Royal Logistics Corps (RLC) with 2 Operational Support Group, who are a nationally recruited specialist unit.
He will be using his skillset to support Logistic planning at a national level in support of the Scottish Government and NHS.
Major Gary Bilsbarrow, an Army reservist also from WMG, University of Warwick comments:
"What has been really humbling is the professional and dedicated team of Civil Servants and Health Professionals across NHS Scotland.  They have been working flat out on a variety of highly demanding challenges, across both Health and Government, and are a fantastic team.
"After many years working in supply chain and logistics it's great to be able to use my skills and experience as an Army Reservist to help during these testing times.
"Covid-19 has changed everyone's lives, from the way we work, socialise, and go about our day to day lives; I hope that my knowledge is of use to the Country to help us get back to normal as soon as possible and save as many lives as we can.
"It is a real privilege to see the Department of Health and Social Care at work and I have had a unique opportunity to learn from how they have responded to the crisis.  They are an impressive group of people and have made us feel part of the wider team from day one."
Brigadier Cattermole, at Saint Andrews House Edinburgh comments:
"Major Gary Bilsbarrow epitomises what it means to be an Army reservist, truly 'twice a citizen'. His extensive logistics knowledge and experience, combined with his humility and humour, have been of huge value to our small military team, supporting the Scottish Government and NHS. Gary's approach, temperament, and ability to get the job done under demanding circumstances has been hugely commendable."
Major Bilsbarrow has been deployed for an as yet unspecified period, depending on success in fighting Covid-19 and hopes his help within the British Army will result in him back teaching his students at WMG, University of Warwick in the near future.